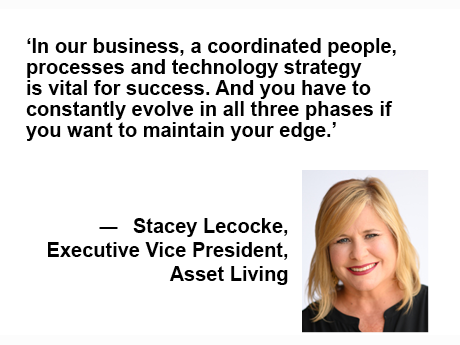 In times of slowing economic growth, property owners and developers frequently shift their attention away from expansion to focus on portfolio optimization. In turn, that can put added pressure on property management firms to perform at a high level.
At Asset Living, a Houston-based manager of conventional and affordable apartments, build-to-rent communities, active adult and student housing, executives are emphasizing people, processes and technology to ensure that their clients achieve success not just during a slump, but in any economic environment, says Stacey Lecocke, who, as an executive vice president, is responsible for leading the company's student housing operations business. But, she adds, the three cannot operate independently.
"To effectively use technology and perform processes, you have to have the right people," she says. "For that reason, we are constantly reviewing and developing the potential and strength of our team."
Talent Development
Building a deep bench is at the core of Asset Living's people strategy, and the company's nationwide footprint naturally attracts talent that is interested in a wide variety of career opportunities, Lecocke points out.
The firm uses the Greenhouse recruiting platform to hire external candidates, and the tool also allows managers to look beyond their regions or own specific teams to find internal talent in other parts of the country. Additionally, Asset Living uses LinkedIn Recruiter's Hiring Manager to peruse more than 5 million profiles and identify candidates within certain markets or job disciplines.
Asset Living trains its employees to know who the heir-apparent is for each position as part of a career advancement guide, regardless of whether an individual is working at the corporate or property level, Lecocke says. Training programs also include three open forums every week where employees can seek advice from leaders and ask questions, she adds.
To assess performance, Asset Living conducts a "topgrading" approach wherein the company rates employees at an "A," "B," or "C" level. The property manager endeavors to continue to develop people in the A bucket and to align compensation with their effort, she says. It also determines how those in the B bucket can move to the higher grade. Conversely, the company generally parts ways with those that receive a C grade.
"That sounds pretty rough," Lecocke acknowledges. "While we invest in our As and Bs, experience has shown that we usually can't turn Cs into As."
Part of the evaluation process includes a review that pools employees into nine groups based on performance and potential. Just as important as gauging an organization's current talent, the so-called "nine-box review" helps identify possible future leaders, a key to Asset Living's succession planning strategy, she adds.
The property management firm also employs a strength finder assessment that helps it identify and develop the talent within the team. "There are various thoughts about this approach, because some people think you can shore up a person's weaknesses to create a well-rounded individual," Lecocke says. "But in my leadership role, I believe that you identify and harness a person's strengths to leverage his or her inherent talents."
Aiming High
Asset Living's processes are largely centered on a number of key performance indicators (KPIs) geared toward delivering quality service to clients, she continues. Regional and on-site managers are incentivized to hit or exceed the benchmarks, which include property maintenance and appearance, budgets, rental rates, net operating income, online reputation, timeliness of workorder fulfillment and resident satisfaction.
In addition to KPIs directly related to its clients and their properties, Asset Living tracks the training compliance of its employees, including their progress in the company's learning management system and their attendance to core classes, open forums and other training sessions, Lecocke says. "If you're not showing up for training," she states, "then you can't be your best."
Meanwhile, to help fuel its leasing performance, the company uses the Leap guarantor/co-sign service program. Among other services, the program provides a rent guaranty for residents that lack a credit history or co-signor, which are frequent challenges in the student housing space.
Student housing assets generally empty out and fill up in August of each year versus a more random move-in and move-out cycle at conventional apartments. Therefore, student housing owners want to have 70 to 75 percent of leases executed heading into the summer. As of late March, however, Asset Living had hit a lease rate of about 70 percent, Lecocke says.
"That's possibly the highest lease rate the company has recorded prior to April in any year, and it's well ahead of the industry average," she declares. "Certainly, our people play into that, but so do processes like the Leap program."
Leveraging Technology
Digital solutions also facilitate Asset Living's student housing leasing efforts. One in particular, Domo, an open cloud platform, provides a proprietary database that allows the company's campus team to see a wide range of dashboard information in real time. Not only does the tool show where leasing stands against the prior year but also how it stacks up against peers in the market.
"Student housing leasing is like dog years: If you miss a day, you miss a week; if you miss a week, you miss a month," Lecocke says. "It's important that we have the ability to manage our absorption and leasing velocity on a day-to-day basis."
On a more granular level, the dashboard reveals variations in leasing activity for different floorplans. In some cases, differences may suggest that one particular floorplan is underpriced, for example. In other cases, it may indicate an influx of graduate students, who typically prefer one-bedroom units. Asset Living is in the process of making Domo available to its clients so that they can track leasing progress and build reports whenever they want, as well.
More broadly, Asset Living uses Entrata, a property management software solution that automates accounting, resident management, facilities management, purchasing, renewals and other tasks. The integrated solution provides efficiencies that a fragmented software system does not, Lecocke says.
Still, Entrata is just one piece of the technology puzzle, and technology is just one part of the foundation that makes Asset Living effective, she says.
"In our business, a coordinated people, processes and technology strategy is vital for success," she concludes. "And you have to constantly evolve in all three phases if you want to maintain your edge."
— By Joe Gose. This article was written in conjunction with Asset Living, a content partner of Student Housing Business.
To learn more about Asset Living, click here.
For more information on becoming a Student Housing Business content partner, contact Rich Kelley, publisher, or Tim Tolton, media advisor.