LeaseCon/TurnCon 2021: Helping Student Housing Operators Navigate the Challenges of Leasing and Turn
December 15, 2021 @ 7:00 am

-

3:30 pm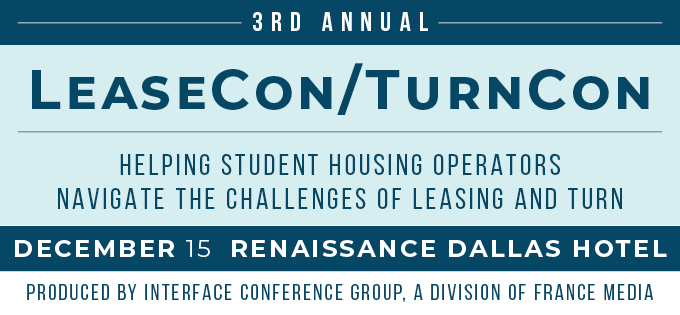 Involved in student housing leasing or turn? Join Student Housing Business and the InterFace Conference Group for the 3rd annual LeaseCon/TurnCon conference on December 15th in Dallas at the Renaissance Dallas Hotel.
"After a year off last year we are very excited to bring back LeaseCon and to introduce TurnCon," says Richard Kelley, publisher of Student Housing Business and senior vice president of the InterFace Conference Group for France Media. "There is a lot of overlap between marketing, leasing and turn, and this will allow us to bring even more professionals together and provide an enhanced educational and networking experience for all involved. And with all of the changes to marketing and leasing that came about from COVID, plus the impact of the supply chain situation on turn, there is a lot to talk about."
The conference, "LeaseCon/TurnCon: Helping Student Housing Operators Navigate the Challenges of Leasing and Turn," will feature two tracks running simultaneously but will have only one registration fee. Attendees are welcome to attend panel sessions related to both topics. LeaseCon/TurnCon will kick off with roundtables and a joint opening networking reception on the evening of December 14th.
Virtual Access
Registered attendees can log in at https://cvent.me/P044lm. In-person attendees can also log in to rewatch panels on demand through Feb 19, 2022.
If you have trouble logging in, click here for the virtual "Know Before You Go" info.
If you haven't yet registered, you can still register at any time to watch panels on demand through Feb. 19, 2022. Virtual access is $225.
The conference will bring together everyone involved in the leasing and turn process, from property-level leasing reps and managers to corporate execs, as well as the many consultants, service providers and vendors allied to the space.
"Our primary purpose and goal with this event remains the same — we want to help owners and operators figure out the most efficient and cost-effective ways to get 'heads in beds' and run the most cost-effective and efficient turn process," adds Kelley. "We hope companies will send multiple members of their leasing and management teams to attend, and we have a team registration tier to help facilitate that."
Student Housing Leasing Topics To Be Discussed:
COVID changed marketing & leasing—will those changes be permanent or temporary?
Where are rents going and how to best employ revenue management
Will in-person tours come back or is virtual the way of the present and future?
Centralized leasing vs. onsite
Roommate Matching
Reputation Management
How best to use social media
Leveraging technology throughout the marketing/leasing process
Onsite staffing, training and retention
Will internationals students return for 2022-2023 academic year?
Does NIL present a unique marketing/branding opportunity?
Student Housing Turn Topics To Be Discussed:
How to factor the supply chain crisis into turn planning and budgeting
The right ways to prep for turn, and how to ensure effective execution
New "turn tech"
Effective strategies for sourcing vendors
FF&E—repair or replace?
SUBSCRIBE TO EMAIL UPDATES FOR THIS EVENT
For information about speaking and sponsorship opportunities, contact Rich Kelley at 914-309-6954.
—
France Media Inc. is publisher of Student Housing Business, Seniors Housing Business, Southeast Real Estate Business, Texas Real Estate Business, Northeast Real Estate Business, Western Real Estate Business, Heartland Real Estate Business, Southeast Multifamily & Affordable Housing Business, Texas Multifamily & Affordable Housing Business, Western Multifamily & Affordable Housing Business, Midwest Multifamily & Affordable Housing Business, and Northeast Multifamily & Affordable Housing Business, Shopping Center Business, California Centers, and Retail & Restaurant Facility Business.
For more information about all of the commercial real estate magazines, websites, and newsletters published by France Media Inc., click here.
Related Events
Tagged under