Seniors Housing Policy Outlook: What Will Impact Operations, Investment & Development in 2022?
February 3 @ 2:00 pm

-

3:00 pm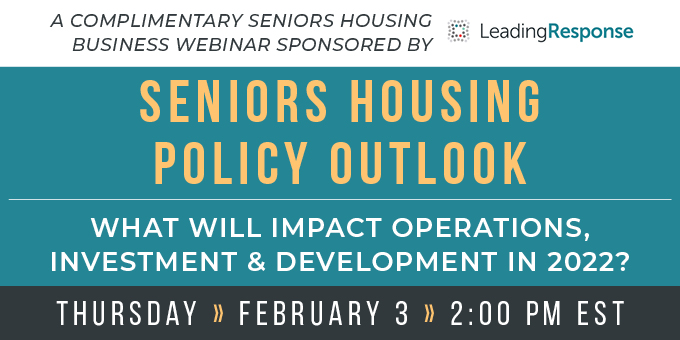 Outside of immigration reform, which looks unlikely in today's political climate, what can the seniors housing industry advocate on Capitol Hill that will help with the labor shortage?
And what does the recent Supreme Court decision upholding the vaccine mandate for healthcare workers at long-term facilities and hospitals (reimbursed by the government) mean for the industry?
ASHA's David Schless and James Balda of Argentum will discuss the current climate, their organizations' 2022 priorities, and what's in store for occupancy, development and investment in a webinar scheduled for Thursday, Feb. 3 at 2:00 pm EST.
The live broadcast — "Seniors Housing Policy Outlook: What Will Impact Operations, Investment & Development in 2022?" — will be moderated by Valerie Whitman of LeadingResponse, the webinar sponsor.
Topics to be discussed:
Occupancy numbers have trended positively over the last three months. Will this trend continue or will the Omicron surge negatively impact industry census numbers?
Where are investment and development headed?
How is the industry dealing with continued labor shortages and what are the legislative priorities designed to help?
Healthcare employee vaccine mandates — what is the impact on seniors housing operations?
What are the top items on ASHA's and Argentum's legislative agendas?
ASHA, Argentum and NIC have formed a Senior Living Diversity, Equity, Inclusion and Belonging (DEIB) coalition. What's the coalition's plan, purpose and goals?
Join us Thursday, Feb. 3, for this wide-ranging discussion.
This complimentary seniors housing webinar is sponsored by LeadingResponse, an industry leader in the marketing and client acquisition space. To learn more about LeadingResponse visit,
www.leadingresponse.com.
France Media's Seniors Housing Business magazine is hosting the panel discussion.
—
This event is hosted by Seniors Housing Business magazine and produced by the company's InterFace Conference Group. For more information, contact Eric Goldberg at 404-832-8262 x 137.

For a full list of InterFace Conference Group webinars, click here.
France Media Inc. is publisher of  Seniors Housing Business, Student Housing Business, Southeast Real Estate Business, Texas Real Estate Business, Northeast Real Estate Business, Western Real Estate Business, Heartland Real Estate Business, Southeast Multifamily & Affordable Housing Business, Texas Multifamily & Affordable Housing Business, Western Multifamily & Affordable Housing Business, Shopping Center Business, California Centers, and Retail & Restaurant Facility Business.
For more information about all of the commercial real estate magazines, websites, and newsletters published by France Media Inc., click here.
Related Events
Tagged under