Webinar: O Canada – Canadian Student Housing Investment and Development
April 7, 2022 @ 2:00 pm

-

3:00 pm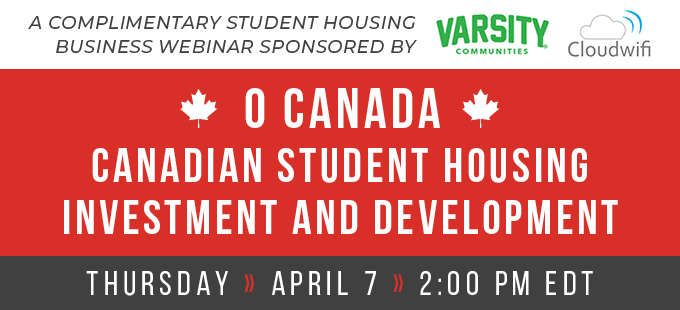 There is an active student housing industry in Canada and the need for more and quality product is growing. On April 7 at 2:00 PM Eastern, Student Housing Business magazine will host a complimentary webinar where leading investors, developers and intermediaries will offer their perspectives on the near- and long-term prospects for leasing, investment and development north of the border.
This discussion will focus on who's buying, who's building, and what is the outlook for purpose-built student housing in Canada. Also to be discussed: how investors are unlocking additional value; how the market compares to the United States; and the growing presence of international students looking to Canada for their education and how that could impact on- and off-campus housing.
Curious about student housing in Canada and how the market is similar to/different from the United States? Tune in to this webinar and you'll learn everything there is to know!
Topics to be discussed:
Current state of Canadian student housing
Best Canadian markets for investment and why
Value-add and retrofit investment opportunities
New development outlook
Future outlook for the Canadian student housing market
How the growing number of international students is impacting the market
This webinar is sponsored by Varsity Communities, an industry leader in off-campus student housing property management, and Cloudwifi, Canada's leading provider of managed internet and Wi-Fi solutions for the student housing space.
For more information visit, https://varsitycommunities.com and www.cloudwifi.ca.
—
This event is hosted by Student Housing Business magazine and produced by the company's InterFace Conference Group. For more information, contact Rich Kelley at 914-309-6954

For a full list of InterFace Conference Group webinars, click here.
France Media Inc. is publisher of Student Housing Business, Seniors Housing Business, Southeast Real Estate Business, Texas Real Estate Business, Northeast Real Estate Business, Western Real Estate Business, Heartland Real Estate Business, Southeast Multifamily & Affordable Housing Business, Texas Multifamily & Affordable Housing Business, Western Multifamily & Affordable Housing Business, Midwest Multifamily & Affordable Housing Business, and Northeast Multifamily & Affordable Housing Business, Shopping Center Business, California Centers, and Retail & Restaurant Facility Business.
For more information about all of the commercial real estate magazines, websites, and newsletters published by France Media Inc., click here.
Related Events
Tagged under