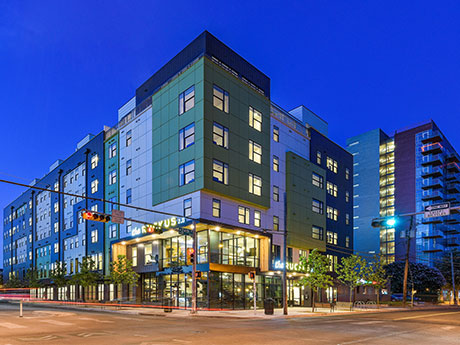 Austin, Texas; Flagstaff, Ariz.; and Charleston, S.C. — Global Student Accommodation (GSA), in a joint venture with Morgan Stanley Real Estate Investing, has completed the acquisition of a five-property student housing portfolio totaling over 1,600 beds.
The seller was Harrison Street, an investment management firm headquartered in Chicago. The portfolio includes three assets in Austin, one in Flagstaff and one in Charleston. The price and names of the specific properties were not disclosed. TSB Realty brokered the transaction.
The three properties near the University of Texas at Austin — The Corner, Ruckus on Nueces and Ruckus on Rio — are situated in the West Campus Neighborhood and offer a combined 175 units and 613 beds. Uncommon Flagstaff near Northern Arizona University, which delivered in 2021, features 179 units and 587 beds. Sterling Campus, located adjacent to the College of Charleston, features 194 units and 419 beds.  
Student housing provider Yugo will take on the management of all five assets immediately, with the aim of enhancing students' overall experience throughout and beyond university and college life.
The transaction gives GSA access to the new market of Charleston, which is rapidly becoming a tech hub and has seen its labor pool grow three times faster than the U.S. average since 2010. This growth is also reflected in student applications to the College of Charleston, which have increased 29.1 percent over that same time period.
"These latest additions to our portfolio build on the momentum that we have had since entering the U.S. market at the start of 2021, where demand for student housing remains robust," says Robin Moorcroft, transaction director of GSA.
"We're proud to continue our strong relationships with Harrison Street, GSA and MSREI with the sale of such a prominent portfolio," says Timothy Bradley, principal of TSB Realty and the founder of TSB Capital Advisors. "We were involved in GSA's introduction to the U.S. market in 2021, and it's an honor to continue to work with them as they expand their portfolio. This transaction was the culmination of several months of work spearheaded by GSA, Harrison Street and TSB working tirelessly through a dynamic last several months." 
— Kari Lloyd and Katie Sloan