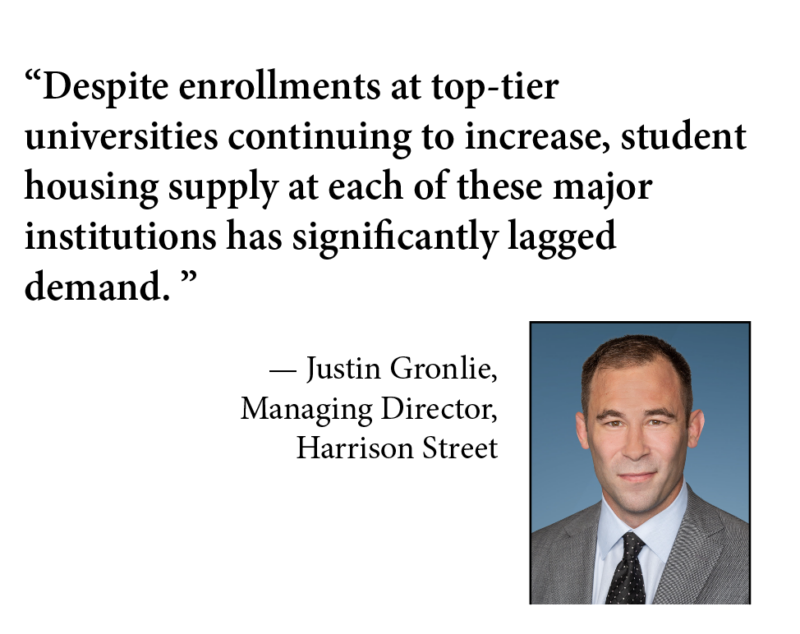 Chicago and Lafayette, Ind. — A joint venture between Chicago-based investment firm Harrison Street and Lafayette-based Trinitas has announced plans to develop four student housing projects in markets across the country that are aggregately valued at $450 million.
The four projects will total 3,390 beds and will all be located within walking distance of campus for students at Indiana University, University of Central Florida, University of Wisconsin and University of Georgia. Construction timelines were not disclosed. Trinitas will assume property management responsibilities upon completion of each project.
Current at Latimer Square will be a 906-bed, off-campus project in Bloomington, Indiana, that will serve students at Indiana University. The five-building development will feature units with bed-to-bath parity and a variety of floor plans, from studio to five-bedroom layouts. Amenities will include a pool, entertainment lounge, fire pits, tanning beds, green spaces, a fitness center and 442 parking spaces.
Current Orlando, which will house students attending the University of Central Florida, will total 750 beds in studio, one-, two-, three- and four-bedroom units. Residences will be spread across three buildings, and the amenity package will comprise a pool, spa, basketball court, fitness center, study lounges and 690 parking spots.
Atmosphere Madison will accommodate students at the University of Wisconsin by adding 681 beds within a 12-story building to the local supply. Residents will have access to a rooftop pool and hot tub, as well as a courtyard with grilling stations, business center, coffee bar, fitness center, study rooms and 342 parking spaces.
With 1,053 beds primarily for students at the University of Georgia, Atlas Athens will be the largest of the four projects. Units will feature cottage- and flat-style designs and will be available in a range of formats, from studio to five-bedroom apartments. Atlas Athens will offer resort-style amenities, and a percentage of the units will be rented as conventional market-rate multifamily residences.
"We believe that when completed, these properties will be among the most sought-after, premium housing options," says Justin Gronlie, managing director at Harrison Street. "Despite enrollments at top-tier universities continuing to increase, housing supply at each of these major institutions has significantly lagged demand."
Since 2008, Harrison Street and Trinitas have partnered on more than 22 student housing developments totaling approximately 16,000 beds.
— Taylor Williams