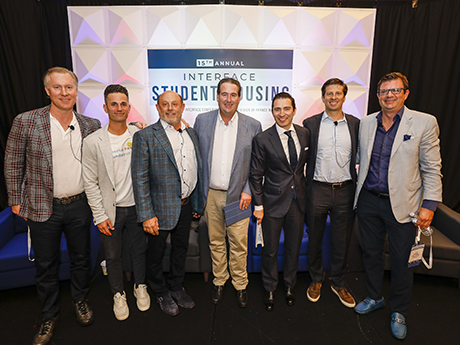 Austin, Texas — Experts in the student housing industry are bullish on the outlook for the upcoming academic year, citing the strong performance and outstanding fundamentals of the sector. 
At the recent 15th annual InterFace Student Housing conference in Austin, industry professionals from around the country convened at the JW Marriott downtown to share insights and discuss industry trends. The first full day of the conference kicked off with the 'Power Panel' session, where a consortium of high-level executives provided their outlook for the year ahead. 
"Evidenced once again by a packed house in this room, the sector is popping," began moderator Peter Katz, executive director of Institutional Property Advisors. "As we continued to experience unprecedented, off-the-charts asset operations in 2022 and through the first quarter of this year, while simultaneously seeing the most mercurial capital markets we've seen in years, we have now statistically proven that the industry is not only recession resilient but pandemic resilient."
The real estate industry has been under a lot of pressure since the summer of 2022 as a result of the rapid rise in the cost of debt, which has created challenges as it pertains to valuing assets. "The recent quarter-point rise has created more clarity for the investment community that the Fed is nearing its tightening cycle," said Katz. "Sellers and buyers having to recalibrate pricing on all assets unfortunately was an indication of the true fluid transactional period that we're facing in this cycle following the fever of transactional activity in 2021 and the beginning of 2022." 
Overall, student housing is outperforming many other asset classes in real estate. "The industry has garnered year-over-year rent growth that is unprecedented and will be here to stay longer than numbers that are being seen in the market-rate arena," said Katz.
Data aggregation firm CollegeHouse recently reported that the sector has achieved 69.8 percent pre-leasing to-date for the 2023-2024 academic year, with a year-over-year rent growth of 7.4 percent market-wide. "The key is sustainability," remarked Katz. "And for everyone in the room to believe that there is a 7 percent to 8 percent year-over-year rent growth coming over the course of the next few years."
"This is the strongest operating environment we've experienced in student housing both in terms of occupancy and rate growth," noted Rob Bronstein, president of The Scion Group. "Last fall set a record pace with record levels and this year is going to beat it in every way — 97 percent or more occupancy and 8 percent to 10 percent rate growth with 15 percent to 20 percent net operating income growth — it's really amazing."
For Bronstein, this growth can be attributed to three factors. "The large flagship public universities where the majority of us own and operate assets are continuing to experience record enrollment," he said. "At the same time, the percentage of students that these universities are able to house on campus is going down, so they're having to rely further on what housing is available off campus."
Another factor is the absorption from shadow-market assets into modern, purpose-built student housing properties, noted Bronstein. "A modern student and their family of course would prefer the safe, student product that we all own compared to what historically had been there," he said. "New supply is also roughly 1/3 of what it was over the past few years. It has become incredibly hard for developers without long-term, core capital and a long track record in student to build anything because construction and land costs, as well as financing terms, are very prohibitive."
The backdrop and the fundamentals of the space have never been better, added Marc Lifshin, founder and CEO of Core Campus. "I've been in this business since 2005 and I've never seen anything close to the fundamentals we're currently experiencing," he said. "Enrollment is going up, supply is going down and we're all getting materially better at revenue management. COVID wreaked havoc on capitalizations. We were fielding a lot of calls from joint-venture partners and other developers looking to capitalize deals because it became very hard to finance projects."
"With the fundamentals we are seeing, things are changing on a daily basis," continued Lifshin. "We are holding nightly rent calls from an operating standpoint to make sure that we are appropriately implementing rent structures that make sense for our investors."
There has also been a divergence between Tier I, publicly chartered state universities with 15,000 students or more enrolled versus other colleges and universities, according to Wes Rogers, president and CEO of Landmark Properties. "If you look from a macro level, college enrollment is down overall from the beginning of the COVID-19 pandemic," said Rogers. "But enrollment is still up at the universities in which we operate." Challenges continue to persist at the community college level and at tertiary universities, which Rogers believes will continue to be seen.
Institutional interest continues to grow in the student housing sector, both domestically and internationally, evidence of which can be seen in the acquisition and take-private of American Campus Communities by Blackstone last year.
"We've seen institutional investors in the space for a bit — even when you go back to the inception of American Campus Communities (ACC), our institutional investors were in the high 90s," said Executive Vice President and Chief Investment Officer of the Austin-based company, William Talbot. 
This was largely due to consistency of cash flow and the resiliency that is so often attributed to the student housing sector. "That has been the story of student housing," said Talbot. "When it comes to Blackstone, they entered the sector in a big way in 2018 as part of the EdR take private. They continued to invest in the space after that through joint ventures with several other companies before seeing the opportunity to take a bigger play with ACC." 
"On top of the resiliency and consistency of cash flow, we're now seeing accelerated, outsized growth that really is building off of all of the momentum we've seen from multifamily, which is transferring into student housing and creating that really attractive runway of success," said Talbot. "Institutional capital is institutional capital for a reason. They're very smart. They see those fundamentals and that runway of growth, and that is what's causing them to come in and invest in the student housing space."
One of the biggest misnomers related to the privatization of ACC was that visibility in the sector would be lost, which would negatively impact student housing at large, according to Barrett Lowell, director with Harrison Street. "If anything, I think this acquisition helped the space," contradicted Lowell. 
"There is tons of data out there on the student housing industry today and many firms that are providing that service," he said. "Some of the public wrapper prevented ACC from doing some of the things they otherwise would have, whether it be the misalignment of the cost of capital for a public company versus private, to management of rates. Bringing those 125,000+ beds into the private sector is going to help everyone."
"It has been a great couple of years to be in student housing," responded Tim Bradley, founder of TSB Capital Advisors. "We've continued to outperform other sectors, and one of the things we pride ourselves on at my company is going out at trying to educate new LPs. The ACC transaction cemented institutional capital in the space. I think it will be good for all of us."
"With regard to the sector, rent growth is only part of the story," continued Bradley. "When we're out consulting with new institutions, replacement costs have not gone down, development is going down, capital markets are hard and enrollments are up, which leads to outsized rent growth. It's important to get groups to understand and be more aggressive on what they can underwrite for 24-25, and the velocity of rent growth has never been stronger. All signs point to more institutions entering the space."
—Katie Sloan