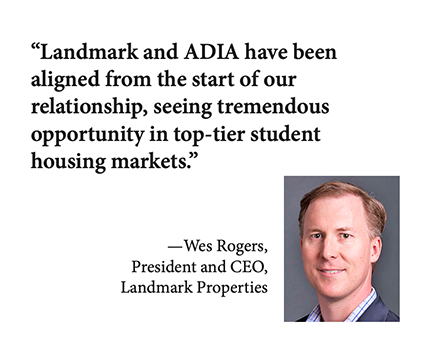 Athens, Ga. — Landmark Properties has formed a joint venture with a wholly-owned subsidiary of the Abu Dhabi Investment Authority (ADIA) initially targeting $1 billion in investment. The venture will be focused on acquiring and operating value-add student housing properties in select markets across the U.S. 
"Landmark and ADIA have been aligned from the start of our relationship, seeing tremendous opportunity in top-tier student housing markets," says Wes Rogers, president and CEO of Athens, Georgia-based Landmark. "We are confident we can find acquisition targets across the nation that will complement our existing development strategy. We are appreciative of the opportunity to expand our relationship with ADIA, one of the world's leading institutional real estate investors." 
Hodes Weill Securities LLC acted as financial advisor on behalf of Landmark Properties in connection with the formation and capitalization of the joint venture. Further details were undisclosed.