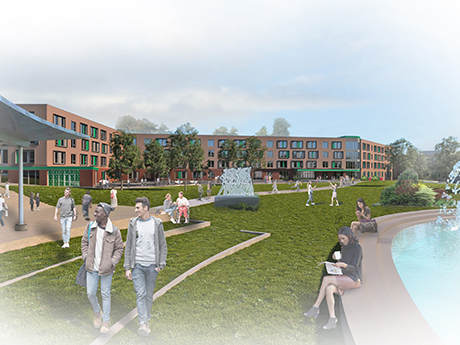 Ypsilanti, Mich. — A public-private partnership between Gilbane Development Co. and Eastern Michigan University is set to begin work on its $200 million 'Welcome Home 2025' development plan on the university's campus in Ypsilanti. Plans for the project were finalized last week, according to reports by Michigan Live. 
As of January, the multi-phase housing transformation was set to include the renovation of 2,025 beds and the addition of 700 new beds across two new student housing facilities: Lakeview Apartments and Westview Apartments. Lakeview Apartments will offer 400 beds adjacent to the university's new student center and Westview Apartments will offer 300 beds near the university's athletic facilities. 
Improvements to existing communities are set to include the addition of new air conditioning and new finishes in bathroom areas, and upgrades to shared amenity spaces. Construction is expected to begin this fall and conclude by the fall of 2025. 
The project team includes Gilbane Development Co. as developer; Gilbane Building Co. and Clark Construction in Michigan as joint venture design-builder; Mackey Mitchell Architects as architect of record; and Moody Nolan as associate design architect.