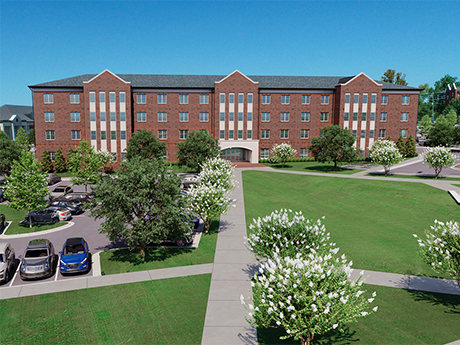 Jacksonville, Ala. — A public-private partnership between RISE: A Real Estate Co. and Jacksonville State University has broken ground on North Village Residence Hall. Located on the university's campus in Alabama, the 513-bed community will offer suites that include two double-occupancy bedrooms and two bathrooms. The development team for the project includes architect Niles Bolton & Associates and general contractor Choate Construction. 
Jacksonville State is also currently developing a new dining hall, which will replace the current main cafeteria on campus, and the Loring and Debbie White Football Complex. The Jax State Dining Hall will be operated by Sodexo and will feature a traditional food line with several concept stations and seating. The dining hall's development team includes general contractor Brasfield & Gorrie, Williams Blackstock Architects and Kemp Management Services. 
The football complex will replace the existing field house at the university's stadium and will offer state-of-the-art training facilities for student athletes; coaching offices and meeting rooms; a hall of fame honoring the history of the university's football program; and new suites to enhance the game day experience for fans. The general contractor for the project is Brasfield & Gorrie, the architect is Goodwyn Mills Cawood and the program manager is Kemp Management Services. Construction is now underway on the football complex with completion scheduled for fall 2024.