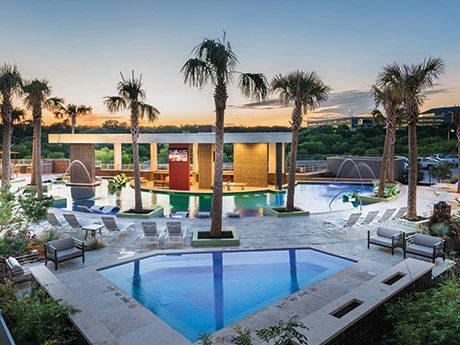 It's a good time to operate student housing. Who knew anyone would be saying that after a pandemic that shuttered schools and many housing facilities just two-plus years ago? But it's true. Occupancy is high, rents are growing and demand is through the roof. 
Nearly 97 percent of student housing beds available for the fall 2022 semester were occupied in September, according to the National Student Housing Report from Yardi Matrix. The study further notes annual rent growth compared to the 2021-2022 academic year was 4.1 percent. 
Of course, student housing operators aren't the only ones who know it's a good time to be in the business. 
"This environment appeals to investors looking for a prudent place to put capital to work, allowing those stabilized assets to really take advantage of historically low new supply coming into these markets," says Charlie Matthews, founder and CEO of CollegeHouse. "It also shows how strong of an asset class student housing is as rents continue to rise while conventional apartment rate growth falters from its peak."
Naturally, the industry would like to see more of a good thing. The only problem is how to achieve it. This brings up questions about staffing, marketing, customer service and rent ceilings.
It All Centers Around Leasing
This flurry of activity has brought about a debate in student housing over whether leasing should remain at the property level or move to a more centralized approach. 
"Historically, leasing was so property-specific that over time the industry naturally trended toward standardization and centralization as we became a more institutional asset class," says Jonathan Bove, executive vice president of acquisitions and management services at Landmark Properties. "Each firm in the space has taken different approaches, with mixed results."
As one might expect, each approach has its pros and cons. 
"The clients we've seen move to the centralized approach are able to reduce their costs, scale as needed, and ensure consistent sales training and execution," says Atish Doshi, founder of The Black Sheep, a marketing firm that helps startups, student housing and brands reach college students. 
Then there are the cons. 
"The downside is that a person in Austin at a centralized sales office isn't going to know the ins and outs of everything at the University of Illinois," Doshi continues. "If a potential resident calls and has questions about how close a property is to the nearest Chipotle, it'll take some quick Google searching to answer, whereas a local sales team will tell the potential resident, 'you don't want Chipotle, you want to go to Maize.'"
Doshi's point plays into a bigger issue operators must consider when determining whether centralized leasing is right for them: the personal touch. This is something that can sometimes be overlooked as tours, reviews and lease signings move online. 
"We have tested a centralized/remote approach for leasing and resident services but were not able to provide our prospects and residents with the same level of quality customer service with this model," notes Stacey Lecocke, executive vice president of student housing operations at Asset Living. 
Lecocke sees another downside to centralization as well.
"Centralizing the assistant general manager or leasing manager roles reduces the number of future candidates that will have the experience, knowledge and skills to be promoted to the community manager role," she explains. "This is a large disadvantage as the need for talent increases while the number of purpose-built student communities continues to grow."
Keeping these tasks at the property level can also be challenging, however. This is particularly true as interest, occupancy and rents increase. 
"Nearly all of our leasing efforts — lead management, touring, closing, application processing and lease administration — occur at the property level," says Jacob Kosior, vice president of centralized services for the Cardinal Group. "This is unsustainable as our teams continue to experience burnout, resulting in staff leaving and the turnover that has long plagued our industry. As a result, Cardinal Group is working to strategically rework the sales cycle to lighten the workload across on-site and centralized team members with a hyper focus on efficiency and customer experience."
This approach — a compromise, of sorts — is one Doshi recommends.
"A hybrid approach makes the most sense, but requires some logistics, training and coordination to ensure the journey for the potential resident is seamless," he says. 
Marketing Made Easy
Marketing is one department where tasks seem to be divided between the corporate and on-site staffs for many student housing operators. 
"With college students, we have a distinct advantage in that our students are largely geographically located near campus," says Jessica Nix, chief marketing officer at Campus Life & Style. We need to be savvy digital marketers, which our corporate teams can manage, but economical field marketing needs to be executed locally."
CA Ventures is taking a similar approach. The firm's marketing and sales departments partner with on-site teams to create a "Reach and Engage" plan that includes multiple short-term targeted campaigns that run simultaneously. They utilize all the physical and digital platforms available, notes Matt Maxa, executive vice president of property management at CA Ventures. 
"Because of this strategy and the emergence of TikTok, social media is now one of our top three lead/lease sources," he says. "Relevant and varying campaigns give our customers a reason to stay engaged, while the consistency of providing information builds trust. The foundation of our messaging stays consistent even as the presentation of our target marketing approach is ever changing."
And those marketing approaches are ever changing. 
Bove says word-of-mouth referrals remain Landmark's most effective tool, which motivates the company to invest as heavily as it does in resident satisfaction. Where those referrals happen has evolved, however. Bove notes prospects are just as likely to come across positive reviews and experiences online as they are to hear about them in a dining hall. 
The goal is to make sure the message — however it's received — stays consistent. 
"We remain focused on communicating the best-in-class experience of living at one of our assets, and using the tried-and-true tools of urgency, connection and community to lease our assets," Bove adds.
Urgency is certainly a tool student housing operators have at their disposal in this high-demand environment. 
"Enrollments this season are what student housing dreams are made of," Nix says. "We are messaging that rates really are going up and we will be full soon. Older students who expect a special if they hold out are going to be disappointed."
Nix argues that freshmen, not upper classmen, are the ones to target right now. That's because incoming freshmen class sizes are large, students are potentially forced to look off campus if on-campus housing is full, they don't have historical expectations on price (or previous reputation) and they have great renewal potential, she says.
A robust pipeline can also lend itself to creativity, as Kosior points out. 
"Today's leasing environment gives us some breathing room to try out new tools and processes with fewer concerns about disrupting leasing velocity," he says. "In some cases, those tools are needed now more than ever to accommodate the administrative work brought about by the leasing velocity we are experiencing."
High demand also has its cost benefits. 
"We are seeing strong rent growth and the ability to implement fees that have historically been waived, such as application, administration and community fees," Lecocke says. "It has also reduced marketing costs with fewer incentives, giveaways and overall lower spending as occupancy goals are realized at an accelerated rate."
At some assets, that rate is exceptionally accelerated, Matthews notes.
"It's not uncommon to hear of a property that is full for the 2023-2024 school year with double-digit rate growth and it's only November, which is crazy," he says. "I think this data corroborates why there has been such a large institutional interest in the space over the past 24 months."
There were 12 universities that experienced double-digit year-over-year rent growth by the end of the fall 2022 pre-leasing period, according to Yardi's report. The top three were Washington State University (18.9 percent), the University of Houston (16.4 percent) and the University of South Alabama (13.4 percent). 
Dollars Need To Make Sense
Even with this healthy velocity, operators have remained focused on ROI. They want to preserve capital where they can and, when they have to spend money, they want to know their dollar is working for them. 
The latter is something that's difficult to pinpoint nowadays with so many channels and metrics. That's why Doshi recommends that clients set up custom QR (quick response) codes for field marketing and custom links for micro-influencers.
"This way we are able to optimize the campaign based on performance data and ensure we are all pushing toward the same goals," he says. 
The reliance on technology and automation has also shifted staffing needs. 
"We've invested in and developed automation to customize the leasing experience at each of our properties," Maxa says. "Our digital experience provides and collects data transparently so that when a customer and sales agent personally connect, the conversation and relationship progress quicker, leading to shortened sales cycles and happier residents."
Ashly Poyer, vice president of sales and marketing at PeakMade Real Estate, further notes that 85 percent of all new leases for the 2022 season were signed online, before a physical tour was even conducted. 
Technology and Artificial Intelligence (AI) may be able to handle some administrative tasks and data analysis, but it hasn't necessarily lessened the need for employees. This is particularly true given today's demand. 
"One of the disadvantages with such a record year is that there is zero down time between turn and the leasing kick-off," says Adam Byrley, chief operating officer at The Preiss Company. "Locking in renewals and signing new prospects now starts immediately after move-in. It forces operators to be ahead of the game and ensure that marketing plans are ready to roll out prior to turn even starting."
On the positive side, this shift to earlier signings can make staffing decisions easier, Byrley notes. 
"The early leasing velocity has allowed us to be more thoughtful about our office hours and total personnel," he says. "Some of our markets lease up by Thanksgiving, so we're able to reduce some office hours — and, therefore, total payroll — without impacting the overall resident experience. It has, however, required a new level of scrutiny from our management teams to ensure we're achieving optimal rates and velocity."
This is when all eyes settle on the leasing manager or, in the case of some companies, on the property manager or assistant manager. 
"Marketing has become more strategic and the role our leasing managers play has become more sophisticated in order to lease up at the fastest pace and lowest cost while growing rents," Poyer says. "One of the challenges coming off a record-breaking leasing year is understanding rent increase tolerance. It is a delicate balance to push rents without pricing yourself out of the market, so we are laser focused on that."
Poyer notes PeakMade's leasing velocity is running about 10 percent ahead (year-overyear), with healthy rent growth thus far. 
Something else to consider is that this rent growth isn't simply a boon for student housing personnel and investors. It comes with expectations, which can often require spending more money and hiring more staff. Younger residents, for example, may have fewer rent expectations and high renewal potential, but they come with their own demands.
"With freshmen residents and their parents, there is a heightened communication and service need as these parents are actively involved with their children, as well as with the online groups that cater to those new to college life," Nix says. "Whether a roommate issue, maintenance request or community news, these freshmen families are expectant and urgent about their needs."
Lecocke adds that reputation also plays a much larger role for younger students.
"Students and parents today want to hear about the academic and social aspects or advantages of each community, so we tend to look to digital channels to highlight these features," she says. "Having someone on staff who is digitally savvy and can deliver creative content is a competitive advantage."
Doshi notes this is one part of the marketing strategy that can fall apart when pre-leasing and renewals are robust.
"Last year, most properties weren't sure when to start their internal marketing campaigns because they wanted students to come back and adjust, but this year it's been a priority to ensure strong retention," he says. "The only disadvantage we've seen from that approach is the lack of brand building for the rest of campus. It's still important for those outside of the building to know who you are, what you're about and why they should consider living at your property when and if they can."
That's why Doshi prefers to talk to clients at the start of the semester to map out a marketing plan and tentative timelines. That way, once resident renewal marketing is done, they're ready to target the rest of the campus without any delays. 
Timelines and marketing plans can help, but some questions about student housing leasing and marketing don't necessarily have a clear answer. This includes whether it's better to centralize leasing efforts and if the role of a leasing manager is still needed if you have a good property manager. The bigger unanswered question vexing operators is if this level of leasing velocity is here to stay. 
They sure hope it is, despite the corresponding challenges. If record-breaking rental rate increases continue in, operators will need to decide where to focus their marketing efforts (and dollars) and just how much they can stretch potential residents before risking a blow back. 
Until then, they're enjoying their moment in the sun. 
—Nellie Day
This article was originally published in the November/December 2022 issue of Student Housing Business magazine.