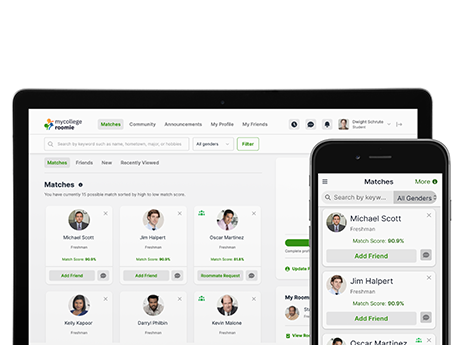 Choosing a roommate, like many other things, has gone digital.
"These days, 'there's an app for that' really is the mantra," says Katrina Pawvluk, director of housing operations at North Carolina State University in Raleigh.
Housing officials like Pawvluk and the students she serves couldn't be happier about this addition to the tech rolodex. It's yet another way to personalize, customize and add value to the on-campus living experience — precisely what technology is supposed to do in student housing.
"Gathering student input on all aspects of processes, programs and services is just one way we seek to stay current and attuned to student needs," Pawvluk continues. "For us, student generations pass through the hallways and common areas of our facilities on four-year rotations and, as such, our programs and the ways we engage with students must be flexible enough to be tweaked, adjusted, digitized — really, whatever it takes — to ensure students feel connected to their roommate, hall mates, buildings and the university throughout their experience with on-campus housing."
Enter roommate matching software applications like StarRez, which N.C. State offers for students who want to participate in the roommate matching process. These types of software ask the student a variety of questions about their lifestyle preferences, academic majors, common interests and more. They also provide a platform for students to message each other, link their social media accounts, post on message boards and send a request to be roommates.
"This software allows students to answer a series of questions that have been proven over time to be good indicators of important factors in roommate relationships," Pawvluk explains. "We ask students seven questions to help match student roommates. The model used for pairings is based on foundational factors of sharing a space with someone else, and has been proven to work with the vast majority of roommates. For university assignment managers, this type of software allows for a quick, systematic pairing of hundreds of students at the click of a button."
And the benefits of online roommate matching are born. But they don't stop there.
Doing More With Less
On the student side of the equation, utilizing a roommate matching platform puts them in the driver's seat of their living situation.
"Students want this type of service and control over who they ultimately live with," says Jay Sensi, CEO of Campus Kaizen, a software platform that streamlines campus processes, including roommate matching, through its My College Roomie channel. "They want to be able to own the process and use the tools we give them in My College Roomie to guide them toward great matches. And they want to be met where they are — online."
Taking ownership over one's living situation has become more important than ever thanks to the pandemic. The past two years have bred fear and uncertainty surrounding the unknown. While roommate matching platforms certainly can't prevent a roommate from bringing an illness into the room, they can alleviate some of the stresses that come with living with a stranger. In addition, some of the matching questions, along with the messaging options, can ensure that potential roommates are on the same page in terms of health, sanitation and socializing.
A student can discover, for example, whether a potential match intends to spend a lot of their time socializing or studying when they're in the room. Discussing how they handled the past few years can also reveal views (to some degree) about the pandemic — and whether or not those views align with their own.
"Time and time again, we see students wanting control over the roommate selection process to determine who they live with," says Kimmy Kelley, senior vice president of marketing operations, creative and production services at American Campus Communities (ACC). "While this has been a growing trend for years, the pandemic made this even more of a focus."
ACC partnered with roommate self-selection software RoomSync in summer 2020 after identifying significant shifts in resident expectations due to the coronavirus. This included increased attention toward health and sharing spaces with strangers.
By 2021, ACC was using RoomSync at 133 of its communities. It made 40,011 roommate matches that year, representing a match rate of 89.6 percent. This partnership not only allowed the students to take a more active role in their living situation, thereby alleviating some of the stress brought on by COVID, but it also permitted ACC to take more of a "backseat" approach. This meant staff could be deployed elsewhere as they didn't have to focus on matching activities, field a high volume of phone calls regarding roommate assignments, or handle as many transfer requests.
This type of software also reduces student housing operators' exposure to Fair Housing Act liability and acts as a marketing tool for potential students and residents. In fact, 4,935 residents indicated during the 2021 leasing period that their decision to choose an ACC property was positively impacted by the option to use RoomSync.
"When residents are in control of deciding what's most important to them in finding the best roommate, it creates better matches for them," Kelley adds. "Having the opportunity to chat and connect before making a selection seems to help lessen any conflict that might arise because the residents were highly involved in the decision-making process."
Finding the Perfect Match
Anyone who has used — or even heard of — an online matching software knows it's not as easy as "swipe right and — boom — you've got your match!" If student housing providers have any hope of a match lasting through the year, let alone serving as a best man or maid of honor years down the road, then they have a few things to consider.
The questions, for one.
"Residents should be asked important lifestyle questions like bedtime, academic goals and noise level, and to share hobbies and interests," says Rob Castellucci, co-founder and president of RoomSync. "However, beyond targeted and concise lifestyle questions, the focus should be on engaging with others and starting real conversations. Social media should be incorporated into the process to give residents a better understanding of what this person is like, not just their bedtime."
It may seem obvious, but Castellucci recommends student housing operators encourage the actual students being matched to answer the questions — and to answer honestly. This is where the digital aspect of today's roommate matching really comes in handy.
"Residents can be more honest while answering lifestyle questions using a self-selection tool as compared to a basic lifestyle form since their guardian isn't looking over their shoulder," he explains.
Castellucci also recommends that student housing operators offer tips on how to communicate and come across authentically online. This is in addition to promoting the benefits of the online matching software.
Kelley suggests students start the roommate selection process early in the leasing period. This not only ensures the largest number of matches but the largest number of units available. She's also a fan of students connecting and chatting early on, far in advance of any housing-related deadlines. This gives the potential roommates time to get to know each other — for better or worse. If they discover they may not be a match after all, there is still plenty of time left to jump back in the pool.
Some platforms also offer automatic matches based on questionnaires, which can save time and take some of the emotion out of the roommate matching process.
"If a resident has a completed resident profile in the RoomSync platform, a self-match can occur, versus having to identify one by one on an individual basis," Kelley says.
This being a tech-driven application, convenience is also key.
"Students have shown over time that they are less likely to engage if a service is not both convenient and accessible," Sensi notes. "Students spend a lot of their time using mobile devices and have come to expect much of what they do to be immediately accessible at their fingertips. Roommate matching is no exception."
Of course, good, old-fashioned communication is always an effective strategy when undertaking any new initiative. Even with college kids.
"Universities can help create positive experiences with the roommate matching process first by providing clear, direct communication that helps the student feel comfortable with the process," Pawvluk adds. "Let them understand how it will work, when they can expect to hear about their roommate match, etcetera."
There are also things to consider on the student housing operator side of things.
"Make sure you develop the proper questions, process and training to implement your roommate matching process online," Kelley says. "For a smooth roommate selection process online, it's important to generate open-ended questions that will help provide the most insight into what students are looking for when selecting a roommate. The more feedback and attention to detail, the better."
She also recommends partnering with a third-party solution that is flexible and dynamic enough to meet both the operator's needs and the residents' needs, and one that can integrate with the operator's other systems. This last point is particularly important if the software will be rolled out at multiple locations, as it was for ACC.
"It standardizes the roommate matching process across locations and increases efficiency, ultimately helping to resolve any issues related to roommate conflicts, fair housing concerns and the marketing of our communities," Kelley continues.
Troubleshooting
Of course, even when things run smoothly, problems sometimes arise. Algorithms and apps aren't people, after all.
The good news is these apps breed accountability. And because the student voluntarily chose the roommate, they tend to work harder to resolve conflicts themselves. RoomSync research shows schools that utilized a roommate matching platform reported a 65 percent reduction in roommate conflicts, while 48 percent of residence hall staff noted conflicts were less severe after adopting the service. The research further noted that 91 percent of students who self-selected a roommate through an online platform were still with that roommate after a semester, versus 82 percent who were randomly matched.
"By taking ownership over the roommate matching process, residents have the added benefit of learning to grow as adults and take responsibility for their living situation," Castellucci says.
When matches don't work out, he notes that there are fewer pushbacks on transfer fees when the student requests to be reassigned.
Though roommate matching can alleviate some of the stress of starting a new school or school year — particularly following a pandemic — Castellucci warns the process isn't stress-free for everyone.
"Some students, especially those new to college, could feel a resident-driven roommate platform adds pressure to their college transition," he notes. "However, this can easily be mitigated by making the roommate matching process optional and designed as a fun way to meet other students and make friends beyond the roommate search."
There is also the delicate balance of current housing availability.
"It can be challenging to have to deny matches based on the availability of floor plans with the right number of bedroom spaces," Kelley adds.
Finally, like any application, there are costs and training time involved with integrating a new platform. Sensi recommends taking advantage of everything the third-party vendor brings to the table.
"Leverage the knowledge and experience of your roommate matching software vendor," he says. "We've been helping students find amazing roommates for a long time, and can help coach clients to use best practices and ensure their resident population gets the most out of the service."
— By Nellie Day, Contributing Writer. This article first appeared in the May/June 2022 issue of Student Housing Business magazine. To subscribe to the magazine, click here.