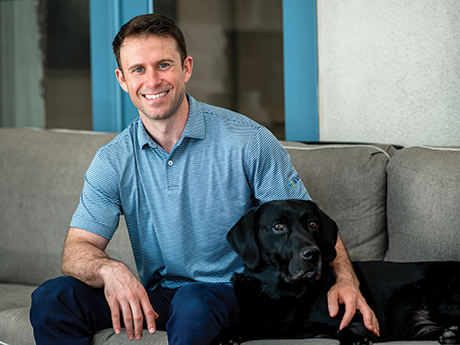 As the largest third-party manager of student housing properties, Houston-based Asset Living is a well-known name in the sector. Called upon by many institutional investors to manage their student housing properties, the company is known for its operational efficiency and quick onboarding of projects. Over the past few years, though, Asset has also taken big strides to grow its presence in other housing sectors, including conventional multifamily, seniors housing and build-for-rent, by acquiring a number of other management firms and technology platforms to bolster its presence in those areas and in new markets. SHB recently spoke with Asset CEO Ryan McGrath about the company's expansion.
SHB: Ryan, Asset Living has generated a lot of news over the past year. Can you give us a short version of what the company has been doing to make headlines?
McGrath: There is a lot new with us. We had tremendous growth in 2021. We opened four new offices: Phoenix, Denver, Dallas and Atlanta. That, in and of itself, is enough 'new' for one year, but we have also added over 1,000 new employees and 60,000 units to our portfolio. As part of those openings, we have added some amazing talent. 
SHB: A big part of that expansion were several acquisitions. Can you take us through those in more depth?
McGrath: Over the past few years we have made six acquisitions. Our first acquisition was Poetic Digital, which is a technology, design, website, and app development firm based in Houston that managed a lot of our digital marketing and websites. Poetic was also managing digital assets for other multifamily owners and developers like Camden and AMLI. Through a partnership with Camden, we invested in a partnership called Chirp, which we later sold to RealPage during COVID. Our first core platform acquisition was a multifamily manager in Phoenix, Shelton Residential. Led by Tom and Pam Shelton, they are an amazing group. They are considered conventional multifamily, but one of the features that made them attractive was that they have a growing build-to-rent portfolio. Next, we bought a platform in Dallas called Alpha Barnes. As strong managers in affordable housing and tax credit-based housing, they brought that knowledge and compliance expertise to our team. We also purchased another platform in Dallas, City Gate Property Group. In Atlanta, we acquired JMG Realty. These two firms have a combination of senior, affordable and conventional multifamily. With a corporate office in Atlanta, JMG had a big presence across the Southeast and several properties based in Florida as well. Lastly, we acquired Echelon Property Group in Denver, a best-in-class manager in Colorado. They were introduced to us by the Sheltons. We are very excited about that acquisition as it will allow us to expand our boundaries further, to the Northwest. We have a lot of reciprocal clients, and now we are able to help clients in many more markets. 
SHB: What is behind this growth spree? 
McGrath: We have been the top student housing manager for several years. We wanted to go from being a big fish in a small pond to being a big fish in the ocean. For us, it is about diversification. We are now in multifamily, student, senior, affordable and build-to-rent. We think about student housing as a business that has a specific skillset, but it is also location agnostic. You are not going to find someone in State College, Pennsylvania, that has a huge management platform who is able to transpose that to other markets like we can. A company like Harrison Street or Blackstone can hire us to go anywhere in the country to manage student housing. When we start talking about conventional multifamily with them, they want local knowledge and expertise. When we make these acquisitions, we are harnessing the local expertise in these markets. As well, scale helps in the management business. It is helping us acquire talent that we wouldn't have been able to have if we were a small regional player. For us, it also makes sense from an operations standpoint. We can spend $1 million on a technology platform when we are spreading that cost across 160,000 units. 
SHB: How is the onboarding of these new companies going?
McGrath: We are taking a different approach compared to most companies. We've added 2,000 people and had to let go of only one as part of the redundancy in these acquisitions. Our approach has been to try to keep all the individuals, including the owners, as part of the Asset Living platform going forward. We intentionally partner with people who want to be part of something bigger than what's offered at the regional level. Every platform that we have acquired thus far has grown in the 12 or 24 months since acquisition. 
SHB: Are you going to take 2022 off from acquisitions, or is this an ongoing push?
McGrath: This is an ongoing push. With every acquisition, we get better and better with the process. Each acquisition is different, but they have some underlying themes that end up being the same. Looking ahead, we plan to continue exploring potential acquisitions in every vertical that we are involved in. 
SHB: What is the ownership structure of Asset? How is that driving your growth objective and big picture goals?
McGrath: We have a private equity partner that focuses on first- and second-generation family businesses. They have been a fantastic partner since 2018. I still control the business and I am the largest individual shareholder. Our equity partner is there when we need them to be, but otherwise, they let me dictate the strategy. When I brought them in, this is the strategy that I outlined for them for our growth.
SHB: Do your student housing and conventional multifamily teams talk to each other or help each other? 
McGrath: All our verticals overlap significantly. They talk every single day. Our department heads have a group meeting every Monday. Our student housing expertise was invaluable during the pandemic to our other verticals because of its experience with virtual tours and online leasing. We were doing that across all our verticals in record time. Our multifamily teams have been together for so long they have processes that are incredibly thought out. We've been able to take some of those and apply them accordingly to our student housing platform. Our build-to-rent is also a perfect hybrid between student housing and conventional multifamily. 
SHB: Are you interested in acquiring in the student housing space?
McGrath: Opportunities often present themselves when you are not looking. As we have done these acquisitions on the conventional side, there have been groups reaching out to us who we wouldn't have looked at previously. Yes, if the opportunity presented itself within the student housing space we would take a run at it. We are bullish on student housing; we feel that we could easily replicate what we have done in the conventional multifamily space in student housing or any of our other verticals.
SHB: Where do you see the student housing sector right now? What's your outlook for 2022?
McGrath: Our clients are as active as ever, both in terms of acquisitions and new developments. We see them looking at other sectors as well, like build-to-rent or multifamily. While doing so, they aren't turning away from student housing. In fact, leasing trends for student housing have been off the charts. We are 8.5 points ahead of where we were last year, and 2021 was one of our best leasing years since 2017. Anytime we are looking at a year where we realistically could be looking at 98 percent or 99 percent occupied across the portfolio while seeing significant rent growth, it is genuinely exciting. 
SHB: What do you attribute that growth to, a lack of growing supply?
McGrath: There was a slowdown in new development. There's also some pent-up demand from students who didn't start college when they were eligible because of COVID. There are also some students who have had to stay longer because of COVID, or they just want the real college experience after having to take a year at home. For the past decade, I've read articles that we've maxed out student housing, but the figures and our data don't show that to be the case at all.
SHB: You've had a busy two years, despite the pandemic. What are some of the lessons that you have learned from your team and company through the acquisitions?
McGrath: People have talked about student housing as being 'recession proof' for years. I would take it to the next level; it is pretty much bulletproof. We saw less than a 10 percent reduction in rent collection during COVID. We had properties where the university shut down completely and there were no students on-campus. Meanwhile, our project there stayed full. Seeing that on the student housing side was impressive. If I learned anything during the pandemic it was that despite any obstacles, our team will not only be able to find residents but also take care of them. I've never been so impressed with a group of individuals. As things were changing early on a weekly basis, we had so many new leaders in our organization stepping up and quickly tackling any challenge that would arise. That's what gave us the confidence to acquire other companies. When we acquired other companies, we found even more talent willing to step up.  It infused a lot of our ideas with outside expertise — creating  the perfect growth engine for Asset Living. 
SHB: Being acquired was probably a wonderful growth opportunity for many of these new employees because they are with a larger firm.
McGrath: It was. When we did the takeovers, the employees of those firms were very excited. For each of the acquisitions we have done, we have looked at 10 companies. We want to make sure the platforms that we acquire have similar values to ours. If they are treating their team members the same way we are, it will end up being a good fit. 
SHB: The business world has changed in the past two years. In multifamily and student housing, we've seen a lot of new techniques when it comes to leasing and management. What are some of the ways that will stick? What's a stop gap that will disappear?
McGrath: Technology will definitely stay. That said, I'm not big on leasing over the phone or computer because I think residents like a personal interaction. Travel will be reduced a little bit, but I think it will come back. I've never had a real estate deal board a plane and come to me. We have to touch the real estate and get a feel for the market. One benefit is that our employees are now better connected. I feel closer to our site teams now than I have ever had before because of the adoption of software like Teams and Zoom. All of our property managers have access to my calendar and can schedule a call or chat with me through our Teams platform. Before, they would send an email, which is not an instant response and is more formal. That connectivity will stay. We went from talking about work/life balance to work/life integration. We get to see a lot more of the full individual from an employer standpoint. You suddenly got to know their family because it became a larger part of their daily life while working at home. No one wants to take that away or give that up. 
SHB: Is it frustrating when a large client of yours sells a portfolio and you lose those management assignments? Or is it part of the business?
McGrath: When I look at our business, I look at it across all our divisions, not just one sector or one client. Fortunately, we don't have a risk with a concentration of assets tied to any one client. When a portfolio sells in student housing, and all our sectors — student housing, affordable, active adult, conventional and build-to-rent — are all growing, there are opportunities for our displaced employees. I'm more concerned about whether we can keep the individual employees. When you have 60 percent growth in a year, we have to be concerned about employee retention — as well as hiring more individuals. It's rewarding for us, somewhat, when a client sells a large portfolio because we were part of making those assets successful for them. Harrison Street sold a large student housing portfolio to Scion at the end of 2021. As long as they continue to be successful, they will raise a bigger fund and buy more properties. We will likely be getting a phone call to manage some of those assets. I don't get frustrated when properties sell, as long as I can take care of our team.
SHB: Single family rental/build-to-rent has been a huge story the past year. What is your take on that space? How are you expanding in that category? 
McGrath: I think build-to-rent is a long-term prospect for the real estate industry. It is an interesting product. The demographic that we see renting the product makes a lot of sense. That changes, of course, depending on the market. If investors can find the real estate at the appropriate value, then I think this is here to stay. High-income earners are a lot more flexible than they used to be. They are more willing to change jobs and locations than in years past, and that is fueling build-to-rent. There are a lot of parallels to student housing. The cottage product was build-to-rent ahead of its time. That's why you are seeing student housing players like Aspen Heights, Core Spaces and Landmark entering the build-for-rent sector.
SHB: You share a lot of management and leadership advice on LinkedIn. What brought that about and what are you sharing?
McGrath: I've only been doing that on LinkedIn for about a year, but it has been a lot of fun. My team was pushing me to share those stories; I said I would do it if there was authenticity involved. Inside the organization, I share family stories and business stories, both the wins and the losses. On LinkedIn, I want to share the humanness and authenticity. I want you to be successful on and off the field, and I will share with you what I am doing. I shared a story about how I shut my cell phone off for an hour in the evening to spend time with my son. I also share stories about my decision-making process, or an approach that I took when I was younger that I learned wasn't necessarily right. I try to approach these stories with authenticity. I never want to come off as telling people what to do.
SHB: You obviously can't run Asset Living by yourself. Who is helping you run the company?
McGrath: Our success as an organization is not a representation of my hard work but rather a reflection of the talent and drive the 5,000-plus individuals at Asset Living possess. Every employee has played a role in the firm's growth. I often say that I don't lead people, but instead lead through people — this has remained true through our series of acquisitions. I couldn't have pulled it off without my team. As we continue to grow, we're challenged together, and we celebrate our successes together — all as one team.
SHB: Is the U.S. men's national soccer team going to qualify for the World Cup? If they do, are you going to Qatar to join them?
McGrath: I have not been watching soccer, unfortunately. I have a 19-month-old at home though and my wife is due any minute now with our second child. I have been playing soccer with our 19-month-old and I can tell you that there is a good chance he will be on the U.S. men's national team at some point. I do hope that the next time I go to the World Cup it will be with him.
SHB: When you are not attending to the largest management company in the student housing space, what are you doing?
McGrath: My wife jokes that when I'm taking a break from work that I like to work. In all honesty, my favorite thing to do is to be a dad. I never thought something could be as rewarding as fatherhood has been. Hobby-wise, when COVID hit, I had some friends who started a Brazilian jiujitsu gym right by our office. I started doing that a few years ago and it has been a lot of fun. 
—Interview by Richard Kelley and Randall Shearin
This article was originally published in the January/February 2022 issue of Student Housing Business magazine. To subscribe, please click here.