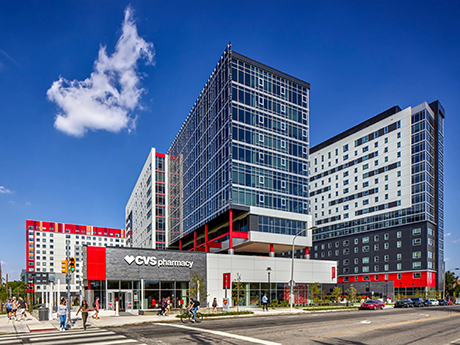 Cardinal Group was started by four friends who had a simple mission: buy student housing and operate it well. What started as a small portfolio has grown larger and larger over the years, and with it Cardinal's management abilities. The company's management arm, Cardinal Group Management, has become one of the country's top 5 student housing managers. Alex O'Brien, one of Cardinal's founding partners, serves as the company's CEO. SHB recently spoke with him regarding trends in the industry, and particularly how technology is having an impact on student housing management and operations.
SHB: It's a very interesting time for the industry now — leasing, rental rates and occupancy are all strong, but interest rates have put a damper on investment and development. What are your thoughts on the state of student housing?
O'Brien: We are in this life-after-COVID window where enrollment is strong. COVID severely impacted the supply chain and development. That's been followed more recently by a slowdown of available and attractive financing. You have a perfect storm for owner-operators: demand is high and supply is steady. I saw our updated pre-lease report in mid-January and we are over 50 percent pre-leased across the 90,000 beds we operate. That is the quickest we have ever gotten to that mark. We are seeing a range between high single-digit to low double-digit rent growth. What is interesting is that we said fall 2021 was a great season and that fall 2022 would be even better. We have the same prediction for 2023-2024. All signs are pointing to a great fall 2023 and we see no reason that won't continue into 2024. The development pipeline will pick back up; there are enough sophisticated developers who have capital behind them to have more development. Deliveries will be up in 2024 and 2025 will see a larger uptick. Even so, that is three strong years of operational performance ahead. You mentioned financing being a barrier, but we are also dealing with a really high tax environment in certain states and with inflationary labor issues. I don't want to act like everything is great; we have some challenges. Every dollar we make up in rent, there is another demand through an increased expense line due to record high inflation numbers. The big headline is that student housing is the belle of the ball again. Our investors who play across sectors have a lot of excitement around student housing. 
SHB: Have the rental spikes surprised you at all? Should the industry have any trepidation about rents going up as much as they are? 
O'Brien: There's some sense of that in the market; you've definitely seen in the news a bigger focus on rent control and attacking software that allows operators to optimize revenue. These headlines are not going after the real problem: when rents are skyrocketing that usually means there is not enough product built. There is a tipping point of affordability. In student housing, there's the additional factor of the income source; whether students are having guarantors pay or are borrowing money to pay rent. Many guarantors are feeling budgetary pressure at home. Those using loans have had access to very low cost loans historically, but those interest rates are going up. Student housing is in a much stronger position than traditional multifamily right now from that aspect. With respect to rent spikes, large landlords are becoming increasingly unpopular; we have taken note of that. It's also not something as an industry that we can ignore. To the defense of the student sector, our rent growth has been relatively flat from COVID to fall 2022. If you look at it in that regard, investors are making up for lost time and getting to rents that were underwritten. Most of their proformas had a year delay. 
SHB: As an owner, manager and developer, you see the capital markets day-to-day from different perspectives. How tough is it right now?
O'Brien: There is a big disconnect between buyers and sellers. Buyers have adjusted to a new world in which future interest rates are a little unpredictable. Sellers are looking at double-digit rent growth and strong occupancy and not wanting to give that away. Cap rates are going to compress, but I don't think they will be back to levels that we saw in 2021 for some time. I expect that transaction volume will start picking back up this year. Because rents and pre-leasing are strong so early, that should give us a very clear look at how an asset is going to perform in the fall. As an investment shop, we are looking at a lot of potential acquisitions. As a consultant, we see a lot of our clients looking to acquire more student housing. It seems like everyone is active. There is a pricing disconnect however; as that gets closer together, you will see a lot of transactions start to happen towards the summer and late 2023. We need some good news; we're in the storm but we see sunny days ahead. Buyers who are being aggressive now are ahead of the market, and that could pay off. I think it is a great time to buy.
SHB: Can you tell us about what is going on with Cardinal? 
O'Brien: It is an exciting time for us. We have always been mission-minded, focusing on people and the experience that our residents' receive by living with us. We hit a tipping point over the past few years where we have gone from a start-up — selling innovations in management and marketing — to being a household name in student housing. In 2022, we had a number of our clients who had been using multiple management firms give us their entire portfolios. We also landed a lot of new business. To see what we have been able to do with no outside capital has been astounding. It has been a strong confirmation of the team that we have and the platform that we have built. We are at nearly 90,000 beds now, but we still have the energy and passion of a smaller company. We are as hungry as ever; we are competitors. We're not resting. We don't feel like we've made it to the mountaintop; we feel like we've made it to base camp. Now, we are really ready to start doing great things. We have a number of projects coming out around enhancements to our operating model. We are in a rare group of impressive companies; this was our goal when we set out to do this 15 years ago.
SHB: What is the Cardinal difference? How do you do things better than others?
O'Brien: We have never believed that we have any secret formula. There is an authenticity at Cardinal Group that is really hard to match. Whether that is how we treat our team members or our residents or how we interact with our clients. We have always preached that authenticity matters. We want our team members to take extreme accountability and ownership. We move quickly with purpose and intent. Finally, there is a humility that allows us to bring people together. In humility you can grow, learn and admit that you don't know everything. All of those attributes combine make us a great place to work in this industry. It allows us to have the pick of talent. Our management team is very strong. All the things that make us different ultimately culminate in us being able to attract and retain great talent. 
SHB: How is the investment/ownership side of Cardinal going? You have a partnership with TPG and you did a recapitalization last year. 
O'Brien: Cardinal has a unique blend of operational expertise and investment acumen. That puts us in a great position to live off our identity as an operator of real estate. We have always been an owner/operator of value-add properties. Our identity and reputation developed on the management side, and we are proud of that. The same attributes that make us a great manager certainly help our investment team, whether that is better understanding of a market or execution of business plans, no matter how complex they are. We see a clear opportunity to be a top 10 owner/operator, if not a top 5, in our future. We also want to continue to be a great third-party manager as well. I'm not an 'either/or' guy; I'm always an 'and' person. I view ownership and management as significant opportunities for growth. Our investment team is very strong, consisting of Eric Frank and Jason Luker — both founding partners of Cardinal — and Madison Meier on our capital markets team and Greg Martini on acquisitions, we have a great team supported by a great platform. You are going to see vertically integrated groups in student housing that are going to be the winners. We have a lot of respect for our colleagues who are developers and secondarily are operators. We are a little different, though. We are operators first. 
SHB: You mentioned before that some investors are still out there aggressively seeking to buy properties. Where does that leave Cardinal in today's investment market?
O'Brien: We are actively looking. We had a few acquisitions in 2022. We expect 2023 to be an active year. TPG has been a great partner to us. We did a recapitalization with Blackstone last year, and they have also been a great partner. We have focused on building a shop that can support institutional investors. We are working with gold standard, best-in-class groups on the investment side. We are patiently waiting for the floodgates to open in the investment sales market as we are well positioned to be an investor this year.
SHB: Are Blackstone and TPG your main partners on the investment side at this point?
O'Brien: We have always focused on building long-term, lasting relationships on the management and investment side. We are relationship driven. We also continue to attract new investment partners. We want to be a conduit to the student housing market for a variety of investors. We have primarily focused on value-add and core-plus and are now expanding into core assets. Could we expand that to cover different markets or niches that other equity partners are interested in? Yes, we think so. It's a balance of having loyalty to your existing investment partners and continuing to grow together while finding ways to expand the business. Our focus with acquisitions has always been to pick investments with outsized returns.
SHB: Cardinal has also dipped its toe into the development game. Can you talk about your endeavors there?
O'Brien: Development has been a part of the vision of Cardinal Group for a while. We have a great development support platform with our construction division, our management and consulting platforms, and Agency Fifty3. We continue to work with some of the best developers in the student housing space in a support role and will continue to do that. In fact, by being on the principal side we will be even better at understanding the needs of our third-party development clients. With the hiring last year of Ryan McBride and a few others on our development team, we are looking to be on the principal side of new development. We have a few ground-up opportunities that we are pursuing now. We will take that business slow; we want to do a few development deals each year to get the platform started. Like all things Cardinal, we want to build a best-in-class institutional platform. Development will not be a side business for us. We are heavily investing in the infrastructure and bringing in the best people to run it. We think now is a great time to get into development given the market fundamentals. 
SHB: Can you take us through the various elements of the Cardinal Group?
O'Brien: We have launched a lot of 'products' in the Cardinal ecosystem by finding additional ways to support our clients. We usually incubate the products internally and then launch them out to the market as valuable market services. Cardinal Group Management started because we had purchased a few student housing assets and realized we needed to launch a management company to support them. After a few years, we started offering third-party services and you have seen how that has turned out. We followed that same playbook with other services. Agency Fifty3 was launched internally to Cardinal Group to help support our growth as a full service digital agency. We continue to find products and services that we think can compete in the space and be an added value to the properties we manage. We were looking at digital and design agencies in the real estate space and they were pretty limited, especially within the student housing space. We wanted our agency to have the same attributes that our management platform has: a commitment to excellence and a focus on the people and culture of the business. The Cardinal ecosystem is really designed to be a full-service business for our investment partners and third-party management clients. We always focus on being the best operator and all of our products and services support that focus. Our consulting arm is another business that is being responsive to the industry's market demand. A lot of our existing clients and prospective management clients need additional support with pre-development services and market research. 
SHB: What activity do you have going on in the conventional multifamily sector?
O'Brien: We have built a national platform that can manage all types of real estate. And we have brought on a team to manage and expand our market-rate presence. We have been following the same playbook in building that business: bringing in best-in-class talent and surrounding them with the Cardinal culture and platform. We have a strong market-rate team who has focused on strong markets. We are active in Texas and in our backyard here in Denver and a few Mountain West markets. The conventional and affordable markets are exciting areas of growth for us. Our student housing operations get better when we learn from other asset classes. All parts of our business get stronger when we improve one of them. We see a lot of opportunity in market-rate housing; we've seen a lot of consolidation in that field due to a lot of acquisitions. I want to reiterate that we are not at all leaving student housing behind — in fact we think that we will be even better for our clients that love working with Cardinal and want us to do more for them than manage their student assets. 
SHB: People and culture are very important to Cardinal. Can you take us through your philosophy on why a people-first culture has been so important to instill at Cardinal?
O'Brien: When you view people and culture — and initiatives related to it like Diversity, Equity and Inclusion — as values versus requirements, it is much more honest. Those who consider it a requirement and who are just now putting those initiatives in have frankly missed the boat and are, for the most part, not being authentic. From our foundation, what Del [DeWindt], Eric [Frank], Jason [Luker] and I set out to accomplish a long time ago was to have an organization that people loved to work at. Our mission is foundational; it is part of our DNA. We are very happy that we can say that Cardinal is a great place to work. Part of that is taking the responsibility of being a standard bearer of the industry. Every time we push forward and our competitors have to match us, that makes the employees of this industry better. We've raised the bar in a lot of areas, such as inclusion, better hiring practices, pay equity and 12 weeks parental leave for new mothers and fathers. That's made us a great place to work, but it has also put pressure on our competitors to offer a similar package. We believe that multifamily is a great place to have your career. It's not just us versus two other companies trying to hire the same people. We want to make multifamily a great industry to work in and attract talent from outside our industry. The upside of it, as a leader, it feels really good to offer these benefits and that trickles to our team members. They like working for a company who is an industry leader. As a former Marine, I am very mission-driven. And that is our mission, and we are not going to give up on it or stop focusing on getting better. I feel a strong sense of responsibility for the people who come to work here, and I want to make sure they made the right decision to come work here by truly making this a special place. We are obsessed with the team member experience; we talk about it every day. People who join Cardinal can't believe how much time and energy we spend focused on the experience of our on-site team. 
SHB: Centralization and AI are two hot topics in the industry. What are your thoughts on how they might impact the multifamily industry?
O'Brien: We are at a time in which technology will support an ability to drive efficiency and a better resident experience. We can't lose track of that. For a long time, the industry has had call centers. Multifamily had them 20 years ago. But truthfully, call centers sucked for the residents, but they save money for the operators. The choice for an operator was to run lean and save money and have a suboptimal customer experience. That is changing because of technology. That was the tipping point for us; there can be an 'and' not an 'or.' We see very exciting abilities to use advanced tools to free up our team's time and focus on the things that matter, especially our residents. We don't see AI as taking over the world; we see it as a tool. AI software is a tool that can provide efficiency and eliminate some mundane busy work. That allows us to free up time and focus on things that matter like a great resident experience and our team members. With regard to call centers, we have a labor force that is demanding flexibility. We didn't just wake up one day and decide to centralize. We are being responsive to our on-site team members who need flexibility and would like to work-from-home. We view centralization as not just good for the efficiency of the company and operations, but good for the people in our industry. Since we've opened up jobs in those areas for remote work, we are getting six times the number of qualified applicants than we do when we open a role that is geographically limited. One important move for us in this area has been the promotion of Cara Athmann as our chief operations officer. She had previously been our chief technology officer. The future of operations is all done through technology, so it is a very strong fit. Leasing, maintenance and on-site facilities management are all flowing through technology.
SHB: You have a lot on your plate with all this growth. Hopefully you have some free time! What do you do in your free time?
O'Brien: I think the thread you are going to see in this interview is that we've been blessed with great people at Cardinal Group. I am in a position where I get to help remove barriers to allow amazing people to do their jobs. I love that role. I'm never the most talented person in the room, and that feels great. Outside the office, I like to ski when I can. I have four young children — my oldest just turned 10 — so they are my real joy. I love to be at home with my family. As a dad, I'm an avid watcher of youth sports!
—Interview by Randall Shearin and Richard Kelley
This article was originally published in the January/February 2023 issue of Student Housing Business magazine.