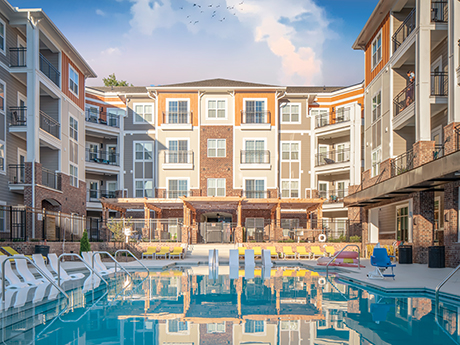 The Preiss Company's rise from mom-and-pop owner to institutional grade investor and operator is stunning in and of itself. From meager beginnings, over the past 35 years the company has risen to become one of the top owners of student housing assets in the United States. Over the years, the Raleigh, North Carolina-based company has switched strategies from buying value-add assets to acquiring core student housing properties. It co-invests with large institutional investors to acquire and sells properties when the investment hold times mature. The past year has been a busy time for The Preiss Company (TPCO) as it has sold and purchased approximately $1.75 billion in properties. Founder and CEO Donna Preiss says TPCO's activity is a reflection of the active market and explained the company's strategy — as well as its goals — in a recent interview with SHB. 
SHB: In our last issue, you were quoted in our investment sales article and mentioned that Preiss had $1 billion in transaction volume in 2021. That sparked our interest. What was 2021 like for The Preiss Company?
Preiss: The pandemic certainly has made for interesting times, and 2021 was no exception. Our previous transaction estimation actually fell short — our final tally came in at $1.75 billion in transaction volume, averaging about $250 million per quarter in acquisitions and/or sales. 2022 is off to another fantastic start, with $600 million in transaction volume in the first quarter alone.
SHB: Why was TPCO so active in 2021?
Preiss: 2021 proved to be the culmination of the 'perfect storm' of events that led us to a near record transaction year. We maintained an active acquisition appetite, cycling out older properties to help fund our new growth. Achieving our target numbers quickly on certain investments has encouraged our partners to monetize those gains through disposition. Interestingly, we sold seven student housing assets where the buyer plans to convert them to conventional multifamily assets. We also began four developments last year that remain under construction. We were fortunate enough to have some nice recapitalizations along the way, as well. Fear and uncertainty have created a flight to quality, especially in the selection of sponsors, markets, assets and operators. Everyone was afraid during the pandemic, and investors wanted to partner with an experienced operator/sponsor in known markets. We were offered some opportunities that we think others might not have seen. We also think the yield differential between conventional multifamily and student housing created an increased interest in our space. CBRE has cited that 65 percent of private buyers in student housing during the second half of 2021 were new to the space. That's a big number. Institutional partners came back to the sector during the third quarter of 2021 when they saw the stabilized rent rolls and pent-up demand for fall 2021. One of our biggest institutional partners, a major pension fund, said that they had tried to diversify, but wish now that they had only bought student housing and traditional multifamily. Student housing market fundamentals continue to be strong; the industry has proven its resilience and the pandemic demonstrated the defensive nature of the sector. There's also inexpensive debt available. Many fund investors did some strong fundraising and had a lot of capital that needed to be invested, as well. 
SHB: You mentioned you sold some assets because you had achieved return objectives. Would you say what's driving your activity is reacting to current market conditions? How are your investment partners driving your decisions?
Preiss: We have some very strong investors/partners who give us a lot of leeway in what we pursue. It is a real luxury to be able to vet deals and not have to worry about the reliability of partners and contracts. However, during the first part of 2021, equity was reluctant to do anything. We had one partner who wanted to do more business in student housing, but his investment committee only wanted conventional multifamily. That opened a new business for us, and we acquired $234 million in conventional multifamily. It was a great opportunity for us, and one we wouldn't have had without that partner. Since then, we are exploring more conventional properties. Most of our investment partners came back during the fourth quarter of 2021. We had one group, with whom we have acquired over $1 billion in assets, return during the first quarter of 2022 after a short absence from the market. They are an international fund, and they are just now becoming comfortable investing again. We think the runway right now is incredible.
SHB: What are your goals for 2022 and beyond?
Preiss: With as much opportunity as there is in the market right now, we want to increase the number of transactions that we are executing. In student housing, there are rental rate increases that we believe have not yet been realized. Underwriting assets has proven problematic of late. One of our historic strengths has been a good underwriting staff, though the sheer number of strong opportunities currently available is almost too much for us to handle. To accommodate this potential growth, we are hiring two new underwriters, an asset manager and leadership in capital expenditures. We also plan to increase our overall bed count volume this year. As mentioned, a portion of our tremendous activity has included dispositions, so we'd like to replace sold rooms with new ones through acquisitions and development, as well as third-party management growth. Our bed count is up overall, but not as much as we would prefer. Development also is a strategic goal for us, both in student housing and conventional multifamily. We started out in student housing as a development company, building 1,500 student condominiums in the early 2000s. We quickly realized we didn't want to sell properties — we wanted to keep them, which is how we moved into the rental space. We typically complete one to two developments per year, but this fact is often lost among the noise created by all our acquisition activity. We recently hired some additional leadership on the development side to increase activity. We have four properties under construction and are in pre-development with a fifth.
SHB: When you look at the student housing sector today, what markets and opportunities do you see as the best?
Preiss: We take a three-tiered approach. We look at the university first; we only want to be in markets with top 100 public schools with a minimum enrollment of 15,000, but a preference of more than 20,000. Secondly, we look at the market. We like markets that have diversified job growth. That's helpful if an asset needs to be converted to conventional multifamily. The last thing we look at is the asset itself. Another way to answer your question is looking again at the flight to quality that the industry is experiencing. In our analysis, we make more money when we buy well-performing properties in good markets that can benefit from our value-add, professional management and operations services. If it were up to me, I would only buy core properties.
SHB: Taking a look at the big picture, what is your overall take on the student housing sector at present? What do you think the industry's outlook is for 2022?
Preiss: Our industry is as strong as it ever has been, possibly even stronger. We collectively made it through a black swan event; who would ever imagine that university presidents would send students home in the middle of the semester? For off-campus student housing to survive that crisis and come out stronger on the other side is amazing. We maintained our lease contracts and collected on those, and we have a better relationship with the universities because of it. We enjoy great fundamentals in our business. Every operator that I'm aware of is seeing accelerated velocity and good rent growth. As I mentioned before, there is a great deal of capital on the sidelines that is willing to invest in our space. We also have great debt pricing, even in the face of rising interest rates. We do have fierce competition for assets which will continue to drive down cap rates, but it will create strong liquidity on the back end. 
SHB: What are you hearing from TPCO's leasing and management teams in terms of fall 2022 pre-leasing and rental rates?
Preiss: We are ahead 10 percent on velocity compared to fall 2021, and we are 3 percent ahead on rental rate increases. We have decreased concessions by 75 percent on average. Our assets that are performing the best with the highest pre-lease numbers, as usual, are the newer properties that are closer to campus. Ironically, during the pandemic, those were not the properties that performed well for us. Our best performers during the height of COVID-19 were those with the lowest rents as no one wants to pay premium rent next to a university that is closed. The markets performing the best for us right now are those that always outshine. Raleigh is one of our top performers; Athens, Georgia, is another strong performer early on. Our only struggling market, which is also our most improved, is the Austin West Campus market. Austin really had a tough time during the pandemic. 
SHB: How did The Preiss Company navigate the pandemic?
Preiss: Like everyone else, we were really frightened in the earliest phases. Our top priority was to keep our employees and residents safe. We added about 40 percent more space to our corporate office so we could maintain social distancing. We bought protective equipment for properties. We implemented a lot of touch-free interactions between staff and tenants. We created as much work flexibility as we could for our employees. For associates with children between kindergarten and eighth grade, we had very flexible hours so they could assist in schooling their children. We increased the number of paid holidays and overall flex time. One of the reasons why we were successful is our tenure. We have 10 people on our executive team, with average team tenure of more than 15 years. Our regional managers have all been with the company between 10 and 17 years. Our team is time-tested. I bought my first piece of investment real estate in 1982 when interest rates were 21.5 percent. Since I started The Preiss Company in 1987, we have had three recessions. None of them have been pleasant, but we came out of each one stronger than where we began. The recovery time after each one has been less because our leadership team's longevity and expertise uniquely positioned us to tackle headwinds much more aggressively than many of our competitors. 
SHB: Preiss is known for taking care of and retaining its employees. How have you gotten ahead of a tight labor market?
Preiss: Staffing is the key to success for any culture-focused company. We have not had any increase in turnover, excluding maintenance. We created as much flexibility as we could with our employees and increased compensation across the board. We reviewed and evaluated the status of every position in the company. We realized we had not adjusted pay as much as we should have in some cases, so we set minimums for each role by looking at what a new hire replacement would cost. That resulted in some significant pay increases for several folks. We also instituted "Champion's Pay" during the pandemic, a hazard pay program for some employees. We received no pushback from our equity partners about our pay increases, which pleasantly surprised me. The pandemic was a good way for us to be able to raise salaries to market level or above. 
SHB: Interest rates and inflation are going up. Are you feeling that at all in your operation?
Preiss: Shy of a recession or a new black swan event, I am not worried overtly about either one. Isn't inflation a good thing for real estate? It is a good investment to have during inflationary periods. In terms of interest rates, when I bought my first piece of real estate, it had a 21.5 percent interest rate and still was a good investment. It made sense under the circumstances at the time. The cap rates today have built in some interest rate increases. Most people think there will be a 25 basis point decrease in cap rates in student housing. I haven't seen any interest rate shocks at all. Our pricing remains attractive. 
SHB: You mentioned selling properties that are being converted to conventional multifamily. Can you talk about that?
Preiss: We purchased a property not far off the Las Vegas Strip, but close to the University of Nevada Las Vegas. Suffice to say, the immediate area was not in the greatest shape. We always struggled with our pro forma, even though we made capital expenditures and appealed to students. A traditional multifamily player came in and made us look like heroes. We have found that any urban location that was built before 2005 has turned out to be very desirable for traditional multifamily. We have since sold the property in Las Vegas, as well as assets in Austin and Charlotte that have been converted to traditional multifamily owners. In Austin, we sold two assets that totaled 2,800 beds. Since the start of 2021, our average cap rate in selling to a traditional multifamily owner was 3.76 percent; when we sold a property to another student housing owner it was 4.76 percent. Now, that is a full point — it's what's pushing traditional multifamily owners to buy student assets. It's good for us since these properties were not our best-performing assets because of the markets. It's also good for other student players in the market because the conversions remove some of the student inventory in the market. 
SHB: What are some of the changes you made during the pandemic that are going to stick around your company? And how do you think the industry changed?
Preiss: We have found and will continue to explore multiple paths provided by newer technology to improve our business operations. We will have more virtual interactions and coordination. As an industry, we were forced to be more transparent, communicate better and educate each other. The weekly conference calls the industry created saved student housing, in my opinion. There was so much coming at us, and no one knew how to react individually without it affecting other businesses. We had to come together. I remember early on there was an intense discussion on that call about whether we should let students out of leases. Each of us went to our counsel and discussed the matter, and we decided that no, we weren't a part of the university and leases to off-campus properties were standalone contracts. As it turned out, the students didn't want to go home anyway. Having the ability to talk through things and express our fears together really brought this industry together. Now that we've moved those calls to a monthly occurrence, I'm hoping that sharing nature continues. It is very healthy for our industry.
SHB: What is a change that needs to occur in the student housing industry?
Preiss: One issue we have is that we — and I mean the industry, not just The Preiss Company — need to raise rents. Our average rental rate increase was around 3 percent in fall 2021. Conventional multifamily saw an average rental rate increase of 14.5 percent. When rate increases are in the cards for us, we must be brave enough to ask for them. CBRE has looked at the differences between fall 2019 and fall 2022, and they are not that much different. Now, the difference between the two industries is that multifamily had to reduce rates to find occupants early on during COVID, whereas student did not. 
SHB: You are passionate about travel and your grandchildren, and it seems like you have a lot of fun in your life while running a business. How do you manage all that?
Preiss: Kirk and I are very fortunate and grateful every day to have both a wonderful biological family and work family. Having worked together for so long, we have complete faith in our executive team. I joke that I don't know why they need me there anymore. Everyone has their role, and they do great jobs. We are part of a great industry that has the wind at its back.
—Interview by Richard Kelley and Randall Shearin
This article was originally published in the March/April 2022 issue of Student Housing Business magazine. To subscribe, please click here.