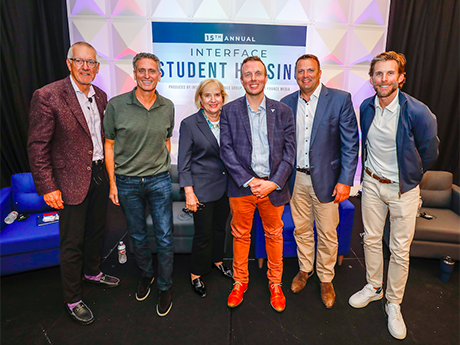 One of the most popular panels at the InterFace Student Housing conference each year is the 'State of the Industry' session, which takes a close look at the current state of the sector and the outlook for the year ahead. This year's panel, moderated by President and CEO of PeakMade Real Estate, Bob Clark, was no exception. 
The first topic — unsurprisingly — was the banking crisis, which Isaac Sitt, co-founder and principal of Vesper Holdings, believes to be far from over. Chief amongst a number of concerns for Sitt is the potential impact of commercial office debt that is still on the books of many regional banks. 
"This debt could further constrain regional bank's ability to lend and I expect it to impact all of real estate in some manner, including student housing," said Sitt. "With specific regard to student housing, we really only have one problem, and it is higher interest rates. Our fundamentals have never been better. We're seeing rent growth and high occupancy levels and leasing velocity. We're in a good position. As the current storm passes, rates come down —which they will have to — and our fundamentals continue to improve, student housing is going to show itself to be an excellent investment. 
Transaction volume is also likely to be down for the duration of the year, though this could have a positive impact on the space, according to Donna Preiss, founder and CEO of The Preiss Co. "The past two or three years, transaction volume was so high that it created a lot of stress on our property management side," she said. " Easing some of that stress is not a bad thing. On the other hand, the banking crisis is likely to decrease our job force, and that can create a real problem for us at the end of the day. Student housing rents largely reflect the job growth in each market." 
Ryan Lang, vice chairman of multifamily capital markets with Newmark, agreed that transaction volume is likely to be down through the end of 2023. "From a banking standpoint, we have been heavily relying upon regional and super-regional banks for construction lending," he said. "There are positives and negatives to that. If you're looking at it from the standpoint of supply fundamentals, perhaps it's a positive in that it might be a bit more difficult to get construction financing done over the next six to 12 months, alleviating some of the stress we've seen over the past few years." 
"We were already constrained from a loan-to-cost ratio standpoint going into the past 12 to 18 months," Lang continued. "We've been more heavily dependent upon preferred equity and other creative structures to get developments off the ground. With what has been happening over the past month, it's going to get even harder to figure out where your construction financing is coming from. The big banks are generally still out and/or fairly expensive or are extremely selective based on the submarket and sponsor." 
For Alex O'Brien, CEO of Cardinal Group Cos., it's time to stop trying to predict what's next and starting moving towards action. "It feels like we're all waiting around for this unknown recession and for damage to happen," he said. "Everything is frozen. The silver lining of the banking crisis, if there is one, is that at least we know there is a specific catalyst that is propelling the market. We're all in a waiting period trying to figure out what The Fed is going to decide, how many jobs are going to be lost, what this recession is going to look like, but if winter is coming, I think we should get started."
Despite the uncertainty and headwinds currently facing the sector, capital sources are still — like O'Brien — ready to get started in student housing. "There is a lot of capital hovering around this industry," O"Brien said. "For the first time in six years, you can get great assets with great operating fundamentals at a 5.5 percent cap range. It begs the question, why as an investor would you not be interested in student housing? The real question is, is anyone going to sell anything? And if you don't have to sell, why would you? We're seeing a lot of demand from capital, but is there enough of a pipeline to quench their thirst?" 
"We all know that there is new capital circling, but it has to be at a number," agreed Ken Carl, senior managing director of student housing and multifamily with Kayne Anderson Real Estate. "With the bank financing market, I expect to see more distress. At some point, certain groups will have to sell and transact and people will take advantage of that. The same goes for consolidation in the sector. It's during these periods of disruption where you really see big moves being made and I expect to see some of that in the next 12 months."
—Katie Sloan