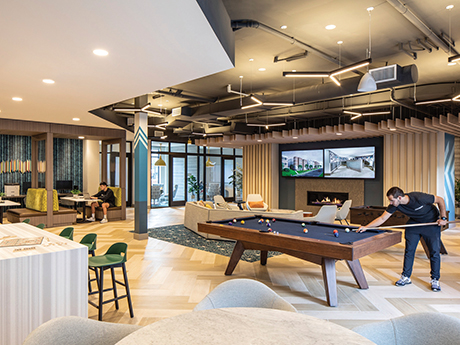 Generational tastes may be involved, but student housing interior design isn't about reinventing the wheel each time a new cohort comes up through the ranks. It's about finding a way to provide that demographic with the type of housing environment that will allow them to thrive academically, socially and personally. 
"Design strategies for a student housing property go beyond following a color trend, art style or material accent," says Kelly Naylor, interior design practice leader and senior partner at BKV Group in Minneapolis. "Design is a tool that can be utilized to express the identity of a property — using color, materiality, light and texture — to express a unique character and energy. Our design process works to understand where students are coming from, what their interests are and what is important to them."
And what is important to the current post-COVID student body is authenticity in the sense of place and the ability to connect — and disconnect — at will.
Customizing the Experience
Authenticity of place isn't necessarily inherent in student housing interior design. Instead, it takes some work as designers, architects and owners collaborate to glean not only what the students stand for, but what their property stands for. 
"We know students will share the same city and university environment, but what is the school really known for?" Naylor continues. "Do they have any famous alumni? What is the history of the school and city? What are the must-see places surrounding them? This research and discovery phase of each project allows us to craft a meaningful story about the property to use as a guide and validates all decisions throughout the design process."
BKV is incorporating some of the history, most famous traditions and local area culture from the University of Wisconsin in Madison as it designs Atmosphere Madison, which is set to debut later this year. This includes covering the columns at the building entry with lyrics from "Jump Around," which is played at every Badger football game, and a custom art mural with recognizable buildings and people from around the campus behind the reception desk. 
"The rooftop amenity floor showcases a custom toile wallpaper that one might think is just a pretty pattern of people doing outdoor activities," Naylor says. "But upon closer examination, one will see that each scene incorporates a wedge of cheese, an homage to Wisconsin's status as 'America's Dairyland.' These simple branded elements go beyond an on-trend finish selection. They are custom, intentional and personal."
Niles Bolton Associates utilized a similar strategy when designing Inspire Atlanta, across from the Georgia Tech campus and football stadium. As the school's closest off-campus community, the firm knew it wanted to use the environment to build energy and enthusiasm. 
"The color palette subtly references the university's tones of blue and gold," says Stephanie Kirkpatrick, principal and director of interior design for the Atlanta-based firm. "The team designed and shaped internal components to incorporate warm woods, concrete and mixed metals. Patterned wallcoverings highlighting Atlanta skylines, science and engineering are strategically placed throughout the project. Sound baffles on the walls and ceilings shaped like honeycombs reference the school's popular mascot. There are also moments of playful elements, like the hanging chair swings found in the indoor sky lounge."
Hanging chair swings can be fun, but Emily Hiott, director of design at SouthPark Interiors in Charlotte, North Carolina, notes authenticity doesn't have to mean incorporating rare or edgy items. Rather, it's about providing residents with amenities they'll maximize and a design schema that makes them feel at home.
"It is so important to make a connection with the resident," Hiott says. "A fitness center and clubhouse are pretty standard at this point, but how can we design with the intended resident in mind? Would the community benefit more from a maker's space or music/podcast room, or even a meditation room or sauna?"
Knowing your resident — and the larger community where the university resides — will reveal which amenities are likely to be appreciated the most. For example, Fort Collins, Colorado, lies near the base of Rocky Mountain National Park, which is why SouthPark incorporated ski/snowboard equipment storage at Stadium Apartments. ECHO1055, however, is in Las Vegas where the heat can be oppressive. The focus there was providing ample shade and furniture to the outdoor spaces. 
A city's culture and infrastructure options also have to be taken into account. 
"Ryder on Olive is located in Davis, California, where biking is a popular way of transportation, so we incorporated a larger bike storage and bike repair/wash facility on site," Hiott says. 
Then there's the strategy of bringing the outdoors in if your property resides in a particularly striking location. 
"The goal for interior design for Aspen Heights University City (near the University of North Carolina at Charlotte) was to match the grandeur of the natural surroundings and utilize small elements of biophilic design for natural light," says Claire Van Haren, principal and director of interior design at Thriven Design in Collingswood, New Jersey. "We then furthered the earthy color scheme of blues, greens and burnt orange. Wood floors, rustic accents and other nature-inspired products connected the exterior building colors and brought the outside in." 
Space as Sanctuary
The goal of creating an authentic environment isn't simply that the resident appreciates the space. It's that the space can be an extension of the resident, allowing them to be their most authentic selves. Providing opportunities to connect with nature through biophilic design is one way that designers are doing this. 
"Resident health and wellness have been a big topic," Hiott says. "We are designing more and more spaces that are driven from a biophilic perspective. Incorporating living walls and naturally found materials help create that inviting space."
Hiott notes that nature can be invoked through design even if the property's location doesn't lend itself to an outdoor aesthetic. 
"Allow for access to natural light and views of nature — even if those 'views' are images or colors and patterns that remind us of the natural environment and provide a sense of calm," she continues. 
Fitness amenities can also provide a sense of calm, though that may sound counterintuitive. This is achieved by integrating resort-style amenities. 
"With the increased focus on wellness, we're incorporating meditation rooms, sound booths, massage rooms and even consultation rooms in some of our off-campus properties," Kirkpatrick says.
Then there's social media, the ultimate expression of one's self — or at least, what one aspires to be. These platforms can't be overlooked by today's student housing designers. 
"Designing spaces that create strong, iconic and well-branded backdrops that can be used on social media is critical," says Chelsea Dora-Shibley, president of interior design at HPA Design Group in Dallas. "No matter the generation, they consistently expect and accept more vivacious design across the board, including material selection, color saturation and forward-thinking design trends."
For the 'Insta-worthy' shot, Hiott prefers geometric patterns on larger surfaces, including walls and floors. She likes rich, deep and earthy tones, along with coppers, velvets and textured fabrics. "Tone on tone, pattern on pattern will be big," Hiott says. She also likes to make use of curves. 
"We like to use arches in the space to add style and charm to otherwise boring, square doorways," she continues. "Plus, the way the arch is shaped and finished means it can evoke a variety of different styles. We've been incorporating furniture with soft lines and curves."
Of course, social media brings up another pertinent issue for the student community: mental health. Dora-Shibley believes this must be factored into student housing design. 
"In our post-COVID world, we have noticed a significant shift in prioritizing students' mental health," she says. "This has influenced us to incorporate more spaces that cater to both physical and mental health through yoga rooms, 24-hour fitness access, tranquility spaces, Wi-Fi-free zones, etcetera. As designers, it's important for us to keep this in consideration as we design spaces. These properties are their homes. Students need to feel safe, supported and in a place that encourages prioritizing their health."
Alone, Together
Part of prioritizing a student's mental health involves providing multiple options for multiple functions. They need spaces to study, socialize, and disconnect both inside and outside their unit. 
"The hybrid teaching model, which is becoming the norm at many colleges, has shifted the focus toward students' mental and physical health, requiring a higher percentage of amenities, lower occupancy units, more privacy, and added visual and kinesthetic learning spaces through dynamic student living experiences," says Joseph Ahmadi, associate principal at Lessard Design in Vienna, Virginia. "We have seen a growing percentage of indoor/outdoor spaces dedicated to creating a better sense of community through more involvement and collaboration. We've also seen more spaces that offer wellness and privacy and support academic success."
This includes flexible study rooms and lounges, innovation incubators and maker spaces. 
Niles Bolton took these trends to heart when it designed the amenities for Inspire. 
Aside from blue and gold and honeycomb, Georgia Tech is also known for its 'InVenture Prize' competition, which awards a total of $35,000 to graduate and undergraduate teams in a Shark Tank-style competition. 
"Many juniors and seniors who live off-campus are starting businesses and entrepreneurial ventures, which are often supported by their universities," Kirkpatrick says. "That makes choices for study opportunities critical, so the team created ample private and group study spaces throughout all levels of the project. We also continue to see an increase in co-working."
Lori Ann Dinkins, president and founder of Mood Interior Designs in Charlotte, North Carolina, believes the rise in co-working is evidence that student housing design is further mirroring multifamily in general. 
"Student housing is aligning more closely with market-rate apartments," she says. "Study spaces are essentially the cyber cafes and co-working spaces of the multifamily world. The design trick is prioritizing study spaces that can both accommodate academic needs and satisfy student demand for flexibility — so students can feel like they are studying in a new space every day."
Sometimes co-working spaces are just that, as Kirkpatrick explains. She notes these dedicated workspaces not only provide an additional revenue stream for the students utilizing them, but sometimes for the property owner as well. 
"Niles Bolton has seen success integrating small, private lockable offices," she says. "These spaces can be operated by outside purveyors and can help meet a retail requirement per zoning regulations."
The need for privacy and collaboration has created another trend among student housing design. 
"The growing attraction toward limited-occupancy spaces has directed the design toward a more scattered pattern of amenities within the building instead of a more centralized configuration," Ahmadi says.
This approach can be done even when amenities are clustered together, which was the case with Aspen Heights' 10,000-square-foot amenities clubhouse. 
"The unique 'H' shape of the building has students enter right into the heart of the space," Van Haren says. "This allows easy access to management, while providing visual access to all interior and exterior amenities. The large, open rooms are divided into zones of smaller functions to create areas of refuge, while still allowing socializing, sightlines and awareness of activities happening all over the clubhouse."
The smaller, private spaces were pushed to the building's exterior shell, leaving the center with a large gathering space. 
"This area was programmed to delineate regions of space without the use of full-height partitions or barriers, keeping it open and multi-functional," Van Haren continues. "There are several egress points and glazing throughout, allowing a connection between interior and exterior spaces. The same concept of bright, natural-inspired elements occurs in the exterior furniture and layout, creating zones that flow into each other."
Tezja Panzik, senior interior designer with Forum Architecture & Interior Design in Altamonte Springs, Florida, believes multi-functionality should be at the heart of as many spaces as possible. 
"The number-one must-have is flexible amenity areas," she says. "This can be indoor-outdoor spaces or areas that can easily transition from use by leasing staff through the leasing season to students during those late-night study sessions."
Providing flexibility through the main amenity area was the primary objective for Panzik and her team when designing  Union on Frank near the University of Alabama in Tuscaloosa.
"Conference rooms were designed for use by the leasing staff during leasing season, and as study rooms by students for the remainder of the year," she explains. "The amenity spaces feature modern, eclectic furniture and groupings. Comfortable, high-back lounge seating provides an 'alone together' approach, while communal lounge seating and cozy banquettes provide a fun, open space for students to interact and socialize. There is a special space for everyone."
Programming is another way to add multiple functions in a given space. Pet training classes in a dog park, for example, or master classes held in the larger study rooms. 
Panzik believes it's not necessarily the amount of spaces or amenities you provide, but what you do with them that will dictate success or failure. "It's not always about providing more amenities, but offering the right ones and positioning them as such within the programming," she adds. "If you have an interior room, you can create any type of space you want, but at the end of the day, if it's hidden in a remote location of the building and staff is not providing specifics for these areas, they are sort of a waste of space."
—Nellie Day
This article was originally published in the March/April issue of Student Housing Business magazine.