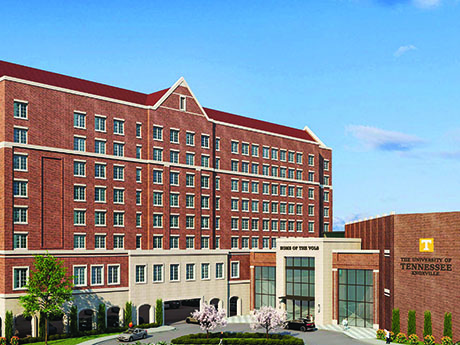 Knoxville, Tenn. — A public-private partnership between the University of Tennessee (UT) and RISE: A Real Estate Co. has announced plans to develop three residence halls on the university's campus in Knoxville. The three seven-story communities are expected to add 2,500 beds to the university's housing inventory.
Development plans include two communities on Andy Holt Avenue and Caledonia Avenue, which will target first- and second-year students. The projects will offer 750 and 1,100 beds, respectively, in fully furnished, one- and two-bedroom units with en-suite bathrooms. Both buildings will include office space for staff and lounge space for students. The development cost for the two communities, which are expected to open in fall 2025, totals approximately $180 million.
The third residential community will be located adjacent to the university's Lindsey Nelson Stadium and will offers 750-beds in two- and four-bedroom apartment-style units. The project, which will cost roughly $129 million to develop, is scheduled for completion in fall 2026. The site will also feature an indoor practice facility that will complement other renovations and enhancements currently underway at the stadium.
Pending state approvals, the projects will be delivered through a ground lease structure in which UT will retain ownership of the land and RISE will develop, finance and construct the facilities. Provident Resources Group will own the project facilities for the term of the ground lease. The university also recently acquired additional housing through a five-year master lease agreement with nearby Lakemoor Station Apartments.