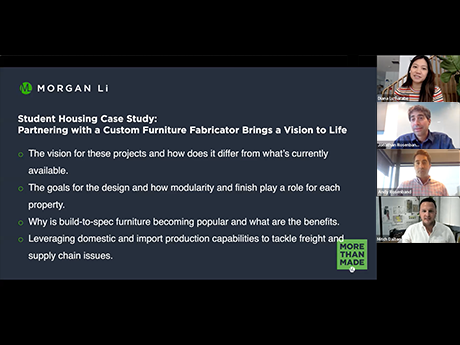 The March 28 webinar "Student Housing Case Study — Partnering with a Custom Furniture Fabricator Brings a Vision to Life," hosted by Student Housing Business and sponsored by Morgan Li, covered important questions in the world of student spaces. This hour-long presentation focused on case studies in the industry and what can go right when partnerships take on design goals, modular approaches, production issues and more — as a team.
Learn more about these topics and more:
The benefits of modularity and why it's becoming so popular.
What design trends are students excited about?
Putting together a design vision that differs from what's currently available in the market.
Goals for design — best practices and practical approaches.
How finish plays a role in furniture.
Build-to-spec furniture trends and benefits.
Leveraging domestic and import production capabilities to tackle freight & supply chain issues.
Register here to learn more about how to make exceptional spaces that last and that work well for students.
Panelists:
Andy Rosenband, CEO, Morgan Li (moderator)
Diana Lu Barabe, co-founder, Roomy
Jonathan Rosenband, president, Morgan Li
Mitchell Dalton, chief innovation officer, Core Spaces
---
Morgan Li specializes in custom design, fabrication and installation of fixtures, furniture and graphics. Family-owned and operated, Morgan Li has millions of square feet of global production space, offices throughout the United States and Asia, and clients around the world.
---
Listen to hear
how partnership is at the heart of great student housing furniture and design. Learn how teamwork between designers, furniture manufacturers and student housing owners and operators can make for an improved product that makes for a great experience for students and ticks all the boxes.
---
For more information on the student housing industry, subscribe to the weekly Student Housing Business newsletter or the bi-monthly magazine. To listen past to Student Housing webinars, click here.