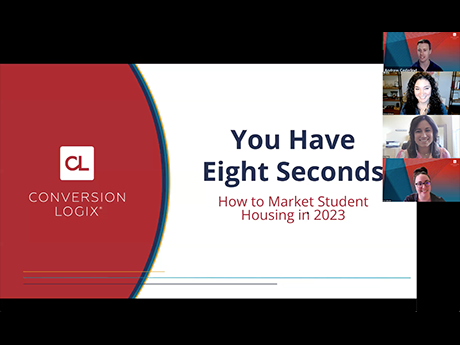 The April 27 webinar "You Have Eight Seconds: How to Market Student Housing in 2023," hosted by Student Housing Business and sponsored by Conversion Logix, was driven by questions about how best to appeal to Gen Z:
How should student housing owners and operators leverage platforms like TikTok, YouTube and Instagram to get messages in front of students?
What does the future hold for automation and AI in student housing? What are the best practices for seamless integration into chat, SMS and email marketing?
What trends and values are characteristic of Gen Z's inclinations? Why do they value authenticity and transparency, and how do those preferences appear in their choices?
What approaches work best when switching between advertising mediums?
How can marketers appeal to decision-makers/parents?
Can influencers make a positive impact on your business?
How might the conventional wisdom change if TikTok is banned?
Register to watch the webinar and find the answers to these questions and more. Download slides for this presentation here.
Panelists:
Andrew Cederlind, Conversion Logix (moderator)
Michele Bettinazzi, PeakMade Real Estate
Alex Rippy, GMH Communities
Kat Callender, Conversion Logix
---
This webinar is sponsored by Conversion Logix. Conversion Logix is a marketing and technology company dedicated to generating leads, appointments, and sales for multifamily housing operators. For more information visit, conversionlogix.com.
---
Learn how
student housing communities can effectively engage with students through social media platforms — especially TikTok — to capture the attention of those with short attention spans and a love for entertainment. Low-barrier approaches to advertising allow student housing owners and operators to meaningfully connect with potential residents and increase their marketing reach easily. Enhance and streamline marketing strategies by using the most exciting technology to advance leasing goals.
---
For more information on the student housing industry, subscribe to the weekly Student Housing Business newsletter or the bi-monthly magazine. To listen past to Student Housing webinars, click here.