Highlight Your Company in The 2023 Goldbook of Student Housing
The Goldbook is a comprehensive guide to the leaders in student housing. There are several ways to participate in the 2023 edition of The Goldbook:
Submit a listing for your company – FREE
Enhance your FREE listing with a logo, AND have your listing included in our "Who's Who in Student Housing" online directory – $835
Advertise in the issue, and receive all of the above, PLUS your company will be highlighted with a company profile (produced by the Student Housing Business editorial staff)
To participate at any level, please complete the form below or click here.
Deadline: June 1, 2023.
If you have questions, please contact Editor Randy Shearin at 404-832-8262 x126.
To advertise, contact Rich Kelley at 914-309-6954 or Tim Tolton at 404-277-3133.
If you would like to purchase a copy of the 2022 Goldbook, click here.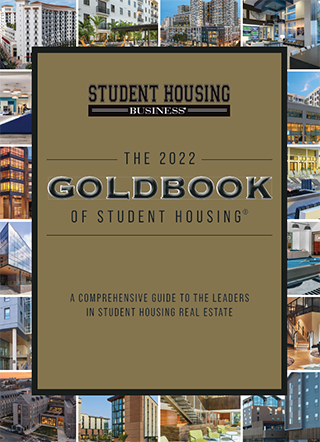 Purchase a copy of the Goldbook. 
---
To receive notification when we collect information for the 2024 Goldbook of Student Housing, sign up for email alerts at https://www.francemediainc.com/directories.
---