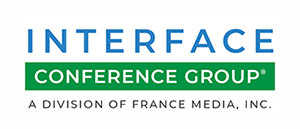 InterFace Conference Group, a division of France Media Inc., produces more than 50 conferences and webinars each year. These events provide educational content and networking opportunities for commercial real estate professionals. Each InterFace event attracts the owners, investors, developers, operators, lenders and intermediaries that are most active in the property sector niche or geographic market focus for the event.
InterFace Student Housing is the leading national conference and networking event for all facets of the student housing industry. Hosted and produced by Student Housing Business and the InterFace Conference Group, the event features 20 panel sessions, 100+ speakers, and attracts more than 1,300 attendees. InterFace Student Housing offers an unparalleled combination of high-level networking and outstanding industry education and thought leadership through two main tracks: (1) Investment, Development & Financing and (2) Leasing, Marketing, Operations & Management.
LeaseCon/TurnCon is a one-day national event designed to help student housing owners and operators navigate the challenges surrounding marketing, leasing and turn. The event attracts everyone involved in the leasing and turn process, from property-level leasing reps and managers to regional managers and corporate executives, as well as the many consultants, service providers and vendors active in the space. The agenda includes panels, roundtables, workshops and individual presentations, with an emphasis on interaction and dialogue.
Interested in speaking at, sponsoring or exhibiting at an InterFace event? Contact us for details.
Tim Tolton
Media Advisor, Student Housing Business
Email: [email protected]
Phone: (404) 832-8262 x125
---
For more information, visit www.interfaceconferencegroup.com. Follow @InterFaceGroup on Twitter and on LinkedIn.
France Media Inc. is the publisher of Student Housing Business, as well as 14 other commercial real estate magazines, and several websites and newsletters that cover the industry. For more information, visit www.francemediainc.com.