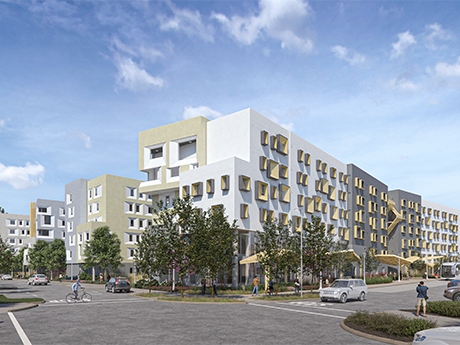 It is no secret that the student housing industry was impacted significantly by the COVID-19 pandemic. Few groups felt that more accutely than colleges and universities. New on-campus development slowed dramatically as higher education institutions shifted their focus primarily to keeping classes in session while maintaining student safety. Moving out of the pandemic, new residence hall development has picked up once again — even accelerating past levels seen prior to the pandemic in certain markets. And the focus for many of these new projects is providing collaboration space and allowing for plenty of study room, while keeping costs at a minimum. 
"When the pandemic started in spring 2020, public-private partnership (P3) activity slowed dramatically as universities and the private sector were forced to address the more immediate issues relating to distance learning implementation, newly enacted health and safety protocols, and mandated government shutdowns," says James Wilhelm, executive vice president with American Campus Communities (ACC). 
"However, by fall 2020, certain universities resumed their planning and procurement activities in an effort to position themselves to commence P3 project development in early 2022," Wilhelm continues. "Since the fall of 2021, we've seen P3 planning and procurement activity steadily increase to more normal levels. In fact, we are currently seeing a vibrant level of procurement activity suggesting an increased level of P3 development in the future."
The same has been seen by The Scion Group, whose P3 advisory team has never been busier, according to Ted Risher, vice president of P3 and transactional support. "P3 transactional volume certainly took a pause during the pandemic as schools and investors waited to see what the long-lasting impact to housing was going to be," he says.
"As it became evident that the residential experience was still critical to students' expectations, deal flow resumed," Risher continues. "However, the rising cost of borrowing and illiquidity in the investor markets have continued to challenge projects. Market uncertainty and rising costs together make a quality market study and program plan even more important in reducing long-term exposure."
A Growing Pipeline
A robust pipeline of new on-campus projects is currently underway across the country. Michaels Student Living has a number of public-private partnership developments in progress, with a particular emphasis on the state of California. Construction is currently underway or has recently been completed on three projects targeting graduate students. at Dartmouth College in Hanover, New Hampshire, which was built in partnership with Harrison Street; Louisiana State University in Baton Rouge; and the University of California, Davis. 
"Graduate housing is an underserved segment of most university housing stock, and graduate programs are growing across the country," says Senior Vice President Ned Williams. "To compete, universities need to provide housing for potential students. We feel like graduate housing is a growing opportunity in the P3 space."
Michaels has also announced plans for a 1 million-square-foot mixed-use village at California State University (CSU), Monterey Bay; and a 444-bed residence hall spanning 390,590 square feet at the University of San Diego, which is scheduled for completion in 2027. 
RISE: A Real Estate Co. delivered two P3 projects this fall, which included the addition of 750 beds at Appalachian State University in Boone, North Carolina, and 550 beds at the New Jersey Institute of Technology in Newark. "It was one of our most challenging delivery years on record, but we were able to make it happen on-time and on-budget," says Senior Vice President Jeremy Doss. "These projects were impacted by supply chain challenges and a blistering escalation of  the construction market, but our teams worked around the clock to deliver." 
The company's current development pipeline includes the replacement of existing university housing and dining options at Murray State University in Kentucky, and a 500-bed residence hall at Jacksonville State University in Alabama. 
ACC also has a strong pipeline of P3 developments underway including a 476-bed community designed to serve undergraduate, graduate and law students at Georgetown University; Albany Village, a 761-bed residence hall offering studio, one-, two- and four-bedroom units for graduate students and students with families at the University of California, Berkeley; 784 beds of affordable graduate student housing at the University of Texas at Austin; and the West Campus Graduate Residence, a 676-bed community targeting graduate students attending the Massachusetts Institute of Technology (MIT) in Cambridge. 
"In addition to MIT, UC Berkeley and the University of Texas, we are also under construction on graduate communities at Princeton University and Emory University," says Wilhelm of ACC. "While developing and managing new P3 graduate student communities is not new to ACC —we completed our first graduate community development at UC Irvine in 2005 — we are seeing increased interest by institutions in the P3 approach to graduate/professional student housing."
"The increased interest is driven by a myriad of factors, but a couple are notable: clarity of  'institutional mission' and the lack of affordable accommodations for graduate students within the local university housing market," Wilhelm continues. "University graduate housing inventory (if it exists at all) is notoriously the oldest and most obsolete on a university campus. These communities need to be replaced with affordable, modern developments."
The overall pipeline of P3 projects underway also includes a 328-bed development by Radnor Property Group and Harrison Street at Duquesne University; and a 1,055-bed development between Capstone Development Partners and Harrison Street at the University of Washington's Bothell campus.
Trend Alert
Moving into 2023, students are less interested in amenities and far more focused on affordability, according to Williams of Michaels. "Designing efficient space with needed study and programming areas is the focus," he says. "Bed-to-bath parity is becoming more important than ever, and having multiple students in a room is almost a thing of the past after the pandemic."
"We continue to be impressed with this generation's commitment to group learning," says Wilhelm. "Gen Z loves to study together even when they are studying different subjects. That means the incorporation of bigger academic success centers that can accommodate groups of varying sizes — usually two to eight students."
That also means that other common spaces should be planned to accommodate study groups, according to Wilhelm. "The recreation center, social lounge, outdoor seating areas and even public stairs can become adhoc group study areas," he elaborates. "We need to anticipate how spacial planning, circulation, seating types, lighting and power outlets should be adjusted to accommodate this use."
Wi-Fi speed and bandwidth also continue to grow in importance on-campus. "Wi-Fi speed can be a huge differentiator in new on-campus residence halls," says Doss of RISE. "Cellular connectivity is also critical and needs to be tested and boosted with infrastructure during construction if there are any potential shortfalls. Zoom or virtual meeting rooms are growing in popularity as the number of virtual interactions for students continues to increase, with study and meeting spaces remaining equally important." 
Doss also notes that package lockers continue to grow in popularity, as well as door locks and access control with smart phone integration. "In a pre-pandemic survey of ACC residents, more than 91 percent of respondents admitted to receiving at least one package a week," agrees Wilhelm. "This delivery culture was only exacerbated during the pandemic, and deliveries now have almost tripled. Package lockers are standard in our new developments, and we are installing them in legacy properties as well. Additionally, we are developing better solutions for managing the vast amounts of cardboard that comes in every day."
While these are a few of the main trends growing in popularity for on-campus housing, amenities are often not 'one size fits all.' "Universities outline their design elements and amenity requirements in the proposal stages for each of their P3 projects, and these design elements are usually more reflective of the college experience for that particular university," says Jim Hennessy, managing director and head of P3 business development with Harrison Street. 
"Generally speaking, we are seeing more residence halls with private bathrooms in each room versus communal, shared bathrooms on each floor," he continues. "We are also seeing more open spaces and shared conference spaces at each new project, giving the students more options and flexibility outside of their specific unit. But ultimately the university is dictating what is most important to them for each of these projects to make sure it aligns with the college experience they want to offer their undergraduate population."
On-Campus Outlook
The consensus across the board is that the number of P3 projects will remain robust over the coming years. "Universities were hit hard financially by the pandemic and are looking at ways to monetize land or existing assets, such as student housing," says Williams. "P3 developments are a great way to create a responsible, stable revenue stream for them.
Partnering with private developers can also give universities a leg up when competing for student enrollees. "We're seeing students refuse to live in the dated dormitories of yesteryear," says Doss of RISE. "Institutions will have to adapt to this as recruitment competition continues to increase due to the enrollment cliff and a decreasing applicant pool."
Jeff Turner, executive vice president and co-leader of Brailsford & Dunlavey's Higher Education Practice group, agrees. "P3 work has come back with a vengeance — we are busier than we were prior to the pandemic," he says. "There continues to be a huge deferred maintenance backlog in on-campus student housing, so we remain bullish on the sector. The top 100 schools continue to increase enrollment, and many started this year with enormous waitlists. Due to the historic rise in construction costs, we may see more renovations as well as alternative funding options like tax credits and other options to help pay for the costs."
Flattening enrollment numbers might also lead universities to try to keep students living on-campus throughout their academic tenure. "More campuses are going to implement a living continuum on campus rather than allow students to progress out of on-campus living accommodations to independent, off-campus communities," says Doss. "With flattening enrollment, universities will likely begin focusing on housing a higher percentage of their students on-campus, where they will also better utilize all of the other auxiliary services the university has to offer." 
Michaels' Williams also believes we are likely to see an uptick in the number of mixed-use projects underway at universities across the country. "More and more mixed-use or market-rate projects are being released as on-campus Requests for Proposals (RFPs), like our project at CSU Monterey Bay," he says. "Some of these requests are for faculty and staff housing, but increasingly universities are seeing it as a way to use their land to generate significant ground rent to fund other needs, or simply to provide long term financial stability." 
These new residence halls also provide universities with the opportunity to better the student experience, according to Hennessy with Harrison Street. "Studies suggest that students that live on campus longer are more likely to have a better college experience, get better grades and graduate on time," he begins. "But perhaps more importantly, in this era of increased depression and anxiety for students, universities have better chances of being able to help students if they live on campus longer versus living off campus."
The challenge currently — and for the foreseeable future — is project economic feasibility, notes Wilhelm. "Over the past decade, the industry has benefited from stable financial markets, plentiful and low-cost capital sources, and favorable development conditions," he says. "Given the current murky economic climate and the challenges with making projects feasible (i.e. higher cost of capital and escalated post-pandemic construction costs), we anticipate a renewed focus on building and unit design efficiency, as well as a more economical approach to building architecture and related specifications/finishes. We also expect to see a continued commitment to rental rate affordability and to providing on-campus accessibility to all students, regardless of their individual economic circumstances."
Risher of The Scion Group agrees, noting that until debt markets stabilize and yield expectations recede a little, or until equity starts to make a bigger push into the market, Scion expects to continue to see fewer projects than in years past. "Projects of the highest credit caliber will get done, while marginal projects will find it difficult to attract true project financing without serious commitments," he says.
—Katie Sloan
This article was originally published in the November/December 2022 issue of Student Housing Business magazine.