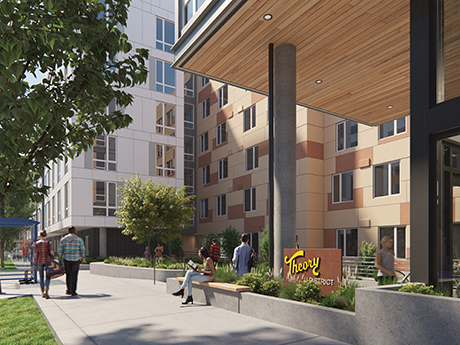 "Last year, we were concerned with COVID-19, and this year, we're concerned with transactions," begins Donna Preiss, founder and CEO of The Preiss Co. The sentence which perfectly encapsulates the status of the industry at the dawn of the new academic year.
In many ways, the outlook is finally bright after several turbulent years, particularly as it relates to the all-important fall move-in and occupancy. Pre-leasing levels are largely at an all-time high; rental rates are rising without pushback; and this fall saw a return to traditional move-in protocols. Just as pressure creates a diamond, so too have the challenges brought on by the pandemic created a stronger, more innovative and collaborative sector — the fruits of which are very much being realized.
But challenges remain. While the industry was better able to mitigate supply chain obstacles this past summer and fall through proactive planning, last minute issues still arose. Appliances — among other necessities — continue to be difficult to come by, and labor issues are still prevalent, leading in some cases to late delivery of new projects. 
Transaction levels, which started off very strong at the beginning of the year, have also hit a bit of stagnation, leaving questions about what the fourth quarter will hold from a capital markets perspective. Despite these challenges, fundamentals are robust, and the success seen this fall serves to exemplify that.
Strong Lease-Up
"We had by far the best leasing season in our company's history for the 2022-2023 academic year," says Wes Rogers, president and CEO of Landmark Properties. "Not only did we achieve 98.8 percent occupancy across our portfolio, but we also managed to achieve effective rent growth of 7.6 percent across our same-store assets year-over-year." 
"At the start of 2022, coinciding with the spring semester, we saw tremendous demand and were able to achieve rates well beyond what we budgeted," he continues. "When isolating leases signed over this spring semester period, rent growth was closer to 9 percent."
2022 has also been a banner year for The Preiss Co. "We had incredible velocity right out of the gate and it continued through the whole leasing season," says Preiss. We started the year a hair over 99 percent leased and saw rental rate increases of over 6 percent, which should produce about an 8 percent NOI increase."
The Cardinal Group also had a very successful lease-up across its portfolio, according to the company's CEO Alex O'Brien. "We were ahead of levels seen during the prior years for the entire lease-up season — it wasn't like there was a surge towards the start of the fall semester," he says. "We're ending the season about 2 percent to 3 percent favorable to the national average. We'll be above 96 percent when all is said and done. It's been a strong year. Like most, we're feeling really good. The fundamentals of the industry are great."
Navigating Turn
After several challenging turn cycles due to the pandemic, this fall finally saw a return to normal. "We had a much more normal turn this year as compared to 2020 and 2021, where we were still  working through various challenges related to COVID-19," says Rogers. "No new protocols were adopted for 2022 and we saw great success in returning to our pre-COVID procedures. To ensure a smooth turn period and a successful fall 2022 move-in, site-level turn preparation deadlines were outlined on a calendar and execution was closely monitored by the corporate team."
And while much of the move-in process returned to pre-pandemic protocols this fall, some COVID innovations remained en vogue among residents and their guarantors. "The students and their parents just want the move-in process to be easy, efficient and out of the heat," says Preiss. "With that in mind, we doubled down on our efforts to continue our minimum contact move-in days. This isn't out of caution for COVID anymore, but simply because it's the fastest and best way to get our residents moved in."
O'Brien agrees, noting that a hybrid approach to move-in is likely to be the new normal moving forward. "We talk a lot about the customization of the resident experience and I think that is really possible now more than ever with technology," he says. "The truth is during move-in, some parents would like to communicate their concerns to an in-person customer service team member. Some would like to text, submit a digital work order or speak with a call center. It's not one size fits all. We always have to fight against the mindset that there is only one way to do things." 
Supply chain issues remained a threat this year as owners and operators navigated the turn process, but many were proactive and better able to mitigate potential pitfalls through early planning. "I think anyone that acted like we were out of the woods probably learned a hard lesson this fall," says O'Brien. "We were much more aggressive on furniture ordering. We thought some of the other supply chain issues that we dealt with during COVID and the Texas freeze a few years ago — like paint and labor — would've been mitigated, but it was still really challenging."
"Labor across the country is still really difficult to procure, especially during a season like turn when you're using so many different types of labor and vendors, so it has really sharpened our focus earlier in the year," he continues. "Turn is not a 90 day process — it is a full year process and it was still one of the hardest turn environments we have operated in."
"We were extremely proactive in ordering turn supplies this year and had all of our parts, appliances, etc. well in advance," agrees Preiss. "The only issue we came across was with our furniture vendor, which had logistics issues delivering on-time to a small portion of our portfolio. These logistics issues involved getting the containers from the rail depot to the warehouse."
Early planning was also top of mind for Landmark Properties, which required its on-site teams to engage in earlier ordering and product substitutions (if needed) to ensure that each property had an appropriate stock of materials before turn began. 
"One area where the supply chain is still recovering is on the appliance front," says Rogers. "Our projects experienced challenges with parts and new appliances for turn and move-in this fall. Labor and staffing for facilities and temporary turn assistance have also continued to be a challenge for some projects. In some instances, we have relied on corporate facilities team members to support our teams and ensure a successful turn in 2022."
New Openings, Groundbreakings
At Landmark, fall 2022 saw the lowest number of deliveries that the company has had in a decade, according to Rogers. "We didn't lose any deals due to COVID, but COVID did cause us to delay several projects we had originally hoped to deliver this fall," he adds. Even still, all of the properties delivered for the fall 2022 semester are in excess of 97 percent occupied and were delivered on time and under budget. 
Among the new projects delivered this fall were Theory U District, a 441-bed development by a partnership between PeakMade Real Estate and Blue Vista Capital Management near the University of Washington; and Hub Tampa, a 359-unit student housing property by RD Management and Core Spaces near the University of South Florida. Gilbane also delivered two projects this fall: a 978-bed community near the University of Maryland and a 383-bed property near Clemson University in South Carolina. 
On-campus, a number of new residence halls were delivered via public-private partnerships, including Denny Crum Hall at the University of Louisville, built in partnership with Investment Property Advisors; Maple Hall at the New Jersey Institute of Technology, which was developed by RISE: A Real Estate Co.; and Capstone Apartments, a 342-bed community at Lynn University, which was developed in partnership with Capstone Development Partners. 
The Preiss Co. currently has four developments in various stages of delivery in Chapel Hill, North Carolina; Nashville, Tennessee; and Raleigh, North Carolina. These projects are set for delivery through 2024. "While none of our developments were for the 2022-2023 academic year, two of our acquisitions were new developments," says Preiss. "One seller finished the units on time but the amenities are delayed. We canceled the contract on the second development because we are unsure of the completion date and tenants are being released from their leases."
Fall 2023 Outlook
Preiss believes the industry will continue to see strong occupancy and strong rent growth due to record freshmen enrollment numbers at many universities. "We anticipate a slowdown in the number of transactions due to the capital markets," she continues. "But we anticipate an increase in our third party management business and an increase in the number of developments in our pipeline."
"We expect the next 12 months to be a record-setting operational year in the student housing industry and for Landmark, but challenging on the capital markets front," echoes Rogers. "We are on track to deliver 10 assets next fall and are projecting to meet or exceed our outstanding rent growth from this past year. We believe that there is more room to run in student housing as compared to multifamily, as many leases were signed for the 2022-2023 academic year before the robust run-up in rents we've seen in the residential sector. This pent-up demand, coupled with relatively price insensitive student renters (with parental guarantors) will allow sophisticated operators to push rents and potentially outperform on rent growth relative to levels seen this year." 
Dislocation in the capital markets has caused smaller, less connected operators to delay or even abandon projects, which will lead to a dampened supply pipeline in the coming years, adds Rogers. "The Fed's actions are causing pain for everyone and will result in transactions and new starts to decline," he says. "I imagine the rest of the year and early part of 2023 will be extremely volatile as the markets adapt to higher rates in the face of elevated costs. But at the end of the day, I think this will ultimately benefit the larger players who can weather the storm."
—Katie Sloan
This article was originally published in the September/October issue of Student Housing Business magazine.