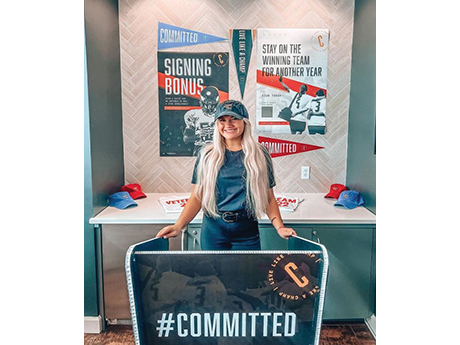 July 1, 2021, was a big day for colleges, student athletes and any company that wanted to partner with said athletes on endorsement deals. This was the day the National Collegiate Athletic Association's (NCAA) NIL — Name, Image and Likeness — rule went into effect in many states (who had to pass legislation allowing it), permitting student athletes to earn money by selling their, you guessed it, name, image and likeness. 
"July 1, 2021, marked the launch of NIL and it couldn't have been more dramatic," says Matt Pavlick, president of GRO Marketing, a full-service marketing agency that helps scaling businesses and student housing communities win and retain clients. "Thousands of student athletes posted, 'my DMs (direct messages) are open for business' with the excitement and hope that their lives were going to improve financially."
Though there isn't a federal NIL law yet — the NCAA (National Collegiate Athletic Association) has asked Congress to assist in the creation of one — 28 states have their own NIL laws already in effect, while others are in the works. 
At the time, student athletes — and companies that wanted to partner with them — couldn't have been more excited. For the student athletes, the benefits were obvious. Aside from feeling in demand and "famous," this new law gave them the opportunity to earn extra money, something many student athletes could use as their academic load and their given sport often limit their time as well as money making avenues. In fact, the National College Players Association estimates that up to 86 percent of student athletes live below the federal poverty line. 
Student Housing Players Jump in the Game
A natural-seeming partnership for student athletes was with student housing communities. After all, athletes have to live somewhere, and what better way to market an asset than to have the school's star quarterback film promos from the amenity deck?
With this in mind, a few student housing operators jumped on the opportunity. Dallas-based Fountain Residential partnered with two Clemson University athletes:  Myles Murphy, a football player, and Valerie Cagle, a softball pitcher. The student athletes have worked with Fountain Residential's management team over the past year on personal appearances and regular social media posts. 
These have included a picture of Murphy posing next to the construction site for Dockside at Clemson. Behind Murphy is a sign that reads, "Coming Fall 2022," referring to the 200-unit, 630-bedroom purpose-built student housing community in Clemson, South Carolina. 
"The athletes have been really great to work with," says Brent Little, Fountain Residential's president and CEO. "So much of our success in leasing and pre-leasing today is through social media. It just made sense to try and capitalize on the new opportunities to work with student athletes who already had a significant presence and following."
Cardinal Group Management also tweaked its social media marketing strategy when the NIL law went into effect. 
"We had many communities shift from having multiple community ambassadors at a time to working with a single athlete when NIL officially launched," says Avery Lewis, Cardinal's marketing performance manager. "In response to the launch of the NCAA's new rule, we designed this year's national student campaign to capitalize on it."
Cardinal's current campaign takes an "elevated spin" on college athletics and is centered around teams (student housing properties) gaining commitments (future residents) for the upcoming lease term. Every student who signs a lease with Cardinal will be entered into a drawing to win a $10,000 scholarship. 
"A number of communities across the country are in the midst of solidifying partnerships with athletes at their local universities in markets such as Waco (Texas), Knoxville (Tennessee) and Boone (North Carolina) to advertise the campaign," Lewis continues.
This past fall, Cardinal partnered with Velus Jones, Jr., a then-wide receiver at the University of Tennessee who now plays for the Chicago Bears. Jones created content for the company's 303 Flats in Knoxville, Tennessee. 
"Just from this tour, we saw a direct correlation in profile visits on social media, guest card volume and overall leases signed when the video was posted," Lewis adds. "The video ended up getting over 12,000 views — just a few months before the resident was drafted to the NFL." 
Campus Advantage has also waded into the NIL waters, albeit at a slower pace. 
"At this time, we have only done a handful of one-off micro-influencer campaigns strategically at some of our sites, but we will be taking full advantage of this new ruling," says Adam Yarber, Campus Advantage's director of resident experience. "Our strategy will vary by market, but overall I think this is a great opportunity to partner with various athletes that align with our mission and values."
Finding a popular student athlete with a large social media following is one thing; finding one that aligns with a mission and values is another. Matthew Reece, counsel and director of legal at law firm Manatt, Phelps & Phillips, says this all comes down to doing your due diligence as a student housing operator. 
"Doing diligence in selecting the right student athlete is essential, not just from a morality standpoint but also finding someone who is authentically the right fit for the brand, and vice versa," he says. "In other words, the student athlete [should] come off as really believing in the values or mission of the company, with authenticity being key."
Reece adds that a "morals clause" can also be added to the contract that gives the sponsor termination rights and other remedies should the student athlete engage in conduct that damages the sponsor's reputation. A non-disparagement clause can provide additional protection against an athlete making negative statements about the sponsor in public. Lastly, if social media content is part of the contract, Reece recommends including clear guidelines in the contract concerning what content and intellectual property is inappropriate or off limits.
Atish Doshi, founder of the Black Sheep, a Chicago-based firm that helps startups, student housing and brands reach college students, recommends "liking" or following an athlete on social media to get a sense of their own mission and core values. 
"Follow the athletes on social media for a few weeks so you can see what their current content looks like, especially story posts, which you won't be able to see just by looking at their feeds," he says. 
Lewis notes Cardinal prefers to partner with student athletes who already live at its properties. This gives the group some insight into who the athlete is and whether they'll be a good fit for the brand. 
"We vet out athletes that live in our communities first and are ambassadors for the lifestyle we advertise," she says. "Ideally, the athlete would be a current resident who is planning on renewing with us for the upcoming year."
These ambassadors can draw in residents beyond social media as well. Say, word of mouth.
"By bringing in residents as part of a larger group or organization, these student athletes continue to bring in lower classmen who fill partially occupied spaces their friends move out of or fill an entire unit," Lewis continues. "Our resident demographic has shifted at a number of communities as we see these influencers continue to bring in new teammates, friends and classmates year over year."
Another strategy for choosing a student-athlete ambassador is to partner with someone who is already vocal about the subject you want to emphasize.
"If your property has an important goal or mission, such as mental health, sustainability, etcetera, look to see what athletes align with this through articles, posts and interviews," Doshi says. "The athlete will be just as excited to work with a property that has that shared vision as you will be, and it leads to more authentic content coming from someone who has bought into the goal."
Campus Advantage is one student housing provider that has embraced this sentiment. 
"By strategically partnering with athletes that have academic and social aspirations, we'll be able to support causes and passions that our prospects and residents are already connecting with in our campaigns," Yarber says. "Connecting with our students on issues they already care about creates a common ground for us to reach prospects where they already are."
Others Sit This One Out
With the NIL ruling less than a year and a half old, it's no surprise some student housing operators have yet to create partnerships. 
Hesitancy is certainly understandable, Pavlick states. The road to where the law is today is paved with lawsuits, Supreme Court rulings and no federal legislation, as of yet. This controversy and perceived disorganization have led some to refer to this new NIL period as the "Wild West."
"It proved to be quite challenging to secure a partnership with an athlete due to a lack of structure," Pavlick says. "Athletic departments promised to provide students with an organized, compliant-friendly program to help students land NIL deals in a safe way, but it failed in the beginning. The majority of student athletes went rogue and never followed the program, which resulted in them failing to land deals with student housing communities because they simply had no education or structure on how to secure a deal and determine a fair price."
Doshi has seen these exact deals fall apart for athletes and student housing operators. 
"Student housing properties seem really interested in getting involved but, for the most part, struggle with locking in athletes and managing them properly with so many other things going on at the same time," he says. "We've talked to properties that had great conversations with athletes, but couldn't get them confirmed and, if they did, scheduling and coordination became an issue." 
Little admits that scheduling can be a challenge, particularly during the athlete's given season. This, Doshi says, is one of the reasons why it's so convenient to work with athletes who already live on property.
"The properties that already have athletes living on-site tend to do a really great job getting the athletes involved," he continues. "And since the athletes are already enjoying the pool or gym or study rooms, posting about those amenities is incredibly authentic."
These challenges can be mitigated, Reece explains, by understanding all applicable rules and drawing out a contract that covers your bases.
"The key is to make sure that these are actually sponsorship or endorsement deals that are compliant with applicable state laws and school policies, not pay-to-play or recruitment inducements that would threaten student-athlete eligibility," he says. "It is critical to have a proper endorsement contract, with fair market value compensation that is tied to clear and understandable promotional obligations, that is disclosed to the school and includes flexibility to handle any rule changes."  
Reece further notes that extra diligence and care is needed if a school's logos or intellectual property will be used, or if a school or collective is involved.
Doshi also believes athletes will be more discriminatory in who they partner with going into year two of the law. 
"You had a lot of interest [this past year] with major brands, local businesses, student housing complexes and collectives all going after athletes aggressively," he says. "I thought there were some great successes where student athletes were able to align with brands that fit their personalities. But there were also athletes who took on three to 10 sponsors at the same time, which defeats the impact of their audience actually caring about their content. This year we'll see athletes be more selective, which will be a good thing for everyone."
Choosing an Athlete, Seeing Payoff
Student housing operators also need to be selective, Doshi asserts. Partnering with current residents or student athletes who are outspoken about a specific passion or cause are two ways to capitalize on the NIL law. However, with social media being as pervasive as it is today, some companies automatically shot for the sky, hoping to partner with the top athletes at their local institutions. 
"Yes, working with the starting quarterback is exciting, but if they have 4 million followers, chances are 3,950,000 do not go to school with them, making the followers irrelevant for your needs," Doshi explains.
Instead, he recommends focusing on athletes with a social media follower count between 5,000 and 25,000. Pavlick also suggests exercising some judgement when choosing the right student-athlete partner, especially when budgets are concerned. 
"Student housing marketers should think about NIL partnerships like they do with digital campaign audience targeting," he says. "Your audience targeting should be as tight as possible. Ask yourself, 'what's a better investment for me? One top-tier athlete or 10 mid- to lower-tier athletes? The mid- to lower-tier athletes more than likely have a high concentration of followers that attend that specific school and the cost to secure a partnership with them is significantly cheaper."
Lewis notes Cardinal factored these partnerships into the budget by substituting them for traditional advertising in some cases. She admits, however, that the ROI isn't always as easy to measure. 
"Our ultimate goal within these partnerships is to gain traffic and sign leases from the exposure we gain," Lewis says. "Although we may not always see any immediate impact from influencer marketing like these NIL partnerships, the brand awareness and trust these students build for our community is worth the investment's wait."
In this new territory ROI is also measured in social media analytics, including impressions, profile visits and engagement with the post. 
"We ultimately see savings [compared to traditional advertising spend] if the post continues to bring in views," Lewis continues. 
Little has had a similar experience, noting that this first year has been somewhat of an experiment. 
"We did not use any sophisticated tracking methods to determine specifically if the influencer had contributed to prospects finding our website, visiting or leasing," he says. "The analysis will be more of an art than a science. We know that people are excited about the players, especially since one is now actually living at the property and can broadcast live from the asset."
Doshi adds that a combination of in-person events and social content can maximize a student housing community's ROI on these partnerships. 
"This allows you to drive traffic to the property for the events, along with creating both timely and evergreen content that you can use in multiple ways," he says. "The online and in-person can play off each other very well and create a more cohesive campaign that's measurable."
As time goes on, optimism is growing that NIL partnerships will be a long-term advantage for both student housing communities and student athletes. And many schools and athletic departments are getting more organized in terms of creating a program that can help the athletes remain NCAA compliant. 
"The market is very new, with few consistent rules and little regulatory guidance," Reece says. "As more NIL deals are done the easier it will be to identify compliant, fair market deals, and the more efficient the disclosure and approval process with the schools will become."
Student athletes are also realizing the value of a few impactful partnerships, versus aligning with any company that will have them. ESPN notes that in the first six months of the NIL law (through the end of 2021), only 125,000 athletes — about one-fourth of the nearly half-million NCAA athletes — had any sort of deal. 
Going into the second year, Doshi feels confident the success stories from early student housing adopters will shine through. This will open the door for more student athletes to take advantage of these opportunities, while giving properties another marketing avenue that can hopefully save dollars while driving leasing efforts.
"I believe this will be the year you see more properties get on board," he says. "Now that the storm has passed and athletes are being a little more careful with who they want to work with, there will be more opportunities for properties to create meaningful campaigns with athletes who align with their brand. Seeing success stories is always nice, but it's better to take a chance and create success yourself for your property."
—Nellie Day
This article was originally published in the September/October 2022 issue of Student Housing Business magazine.