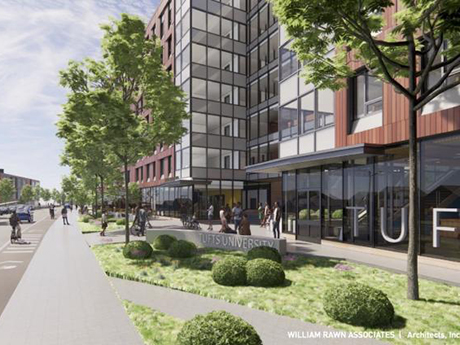 Medford, Mass. — Tufts University has announced plans for a residence hall development on its campus in Medford, which will target junior and senior undergraduate students. The development site is located on Boston Avenue across from the new Medford/Tufts Massachusetts Bay Transportation Authority (MBTA) station.
The community will offer apartment-style units, ground floor retail space and an outdoor plaza that will be open to the public. Tufts hopes to break ground on the project in 2023, with completion expected for fall 2025.
"In addition to building a beautiful, efficient new residence hall, we are taking this opportunity to energize the Boston Avenue streetscape," said Rocco DiRico, executive director of government and community relations at Tufts, in an interview with TuftsNow. "Our objective is to create an inviting place on campus, not just for our students, but also for our neighbors who may be catching a train into Boston and for our visitors who may be seeing Tufts for the first time."
The university is also in discussions with bike share system BlueBikes to sponsor two new stations within walking distance of the new residence hall. The development has been designed for low energy use and will connect to the university's central energy plant for utilities. The design-build team for the project includes William Rawn Associates and construction manager DPR Construction.