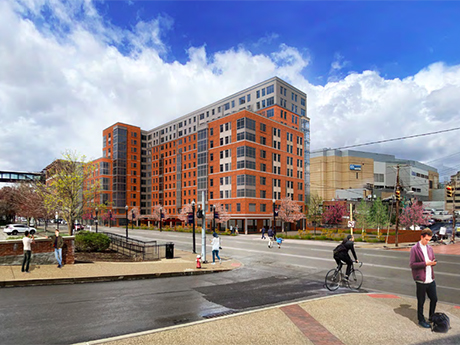 Pittsburgh — The Pittsburgh City Planning Commission has approved plans for a residence hall development on Forbes Avenue at Duquesne University, according to reports by the Pittsburgh Post Gazette.
The presentation shown to the Planning Commission lists developer Radnor Property Group, Design Collective and Indovina Associates Architects as partners on the project, which is targeting LEED certification. Reports from the Gazette note that the project will be 12 stories offering approximately 550 beds. The development will be part of decade-long institutional plan, which was approved by city officials earlier this year.
The 10-year plan includes renovations to the university's UPMC Cooper Fieldhouse (formerly known as A.J. Palumbo Center); the construction of visitor locker rooms west of the university's Arthur J. Rooney Field and a new press box; the addition of a perimeter wall and landscaping around the north side of the stadium; the development of new athletic offices and new state-of-the-art athletic facilities; demolition of an existing structure to create green space and a plaza near the university's Uptown communities; the addition of a new mass-transit station on Forbes Avenue; and the construction of a new College of Osteopathic Medicine.