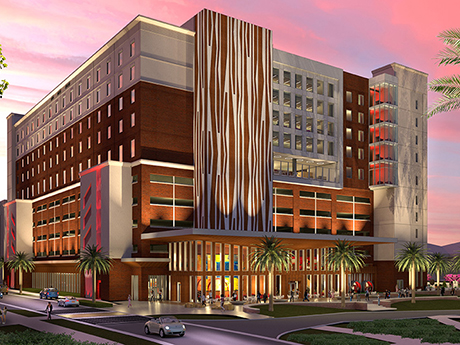 Tampa, Fla. — The University of Tampa (UT) has begun construction on a 460,000-square-foot mixed-use project. The development is set to include a 600-bed residence hall, 37 faculty offices, five classrooms, study rooms, a 9,000-square-foot lounge and a study hall designated for veterans, which will support the university's commitment to higher education for military veterans.
The project is also set to include ground floor retail space leased to Starbucks Coffee; spaces dedicated to the university's office of Diversity, Equity and Inclusion; offices for the university's Sales Excellence and International Programs teams; and four levels of parking with space for 440 vehicles.
The development's design team includes KWJ Architects and Baker Barrios Architects. In alignment with UT's commitment to create a responsible and sustainable campus, the building is targeting LEED certification from the U.S. Green Building Council. Completion is scheduled for fall 2024.
"Student housing continues to be a strong sector for the real estate industry, with the Southeast in particular being an especially bright spot in the market," says Grayson Silver, managing partner of Baker Barrios. "Florida remains one of only four states in the country with more than 1 million college students enrolled, and universities like UT are poised to accommodate future growth by investing in state-of-the-art building design and technology to meet the needs of the future of higher education."