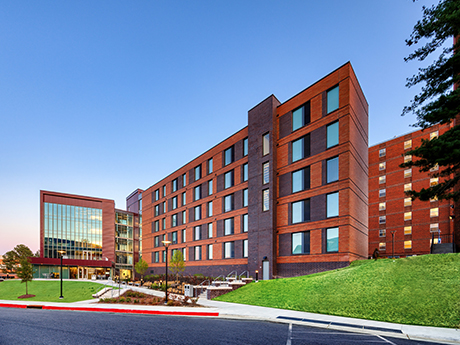 Durham, N.C. — Corvias has completed the development of three residential buildings totaling 3,300 beds for students and residence life staff at North Carolina Central University in Durham.
The project includes the George Street Residential Complex, offering semi-suite units for first- and second-year students; the Lawson Street Residential Complex, offering apartment-style units for upper division students alongside a 7,300-square-foot dining facility; and Alston Avenue Apartments, which features four-bedroom units with two bathrooms and full kitchens. Shared amenities at Alston Avenue include a computer station, multi-purpose room and lounges.
The development included more than 60 percent engagement of qualified subcontractors that are local, minority-owned business enterprises (MBEs) and historically underutilized businesses.
"Corvias is proud to support students by providing a variety of affordable and comfortable residential options that allow students to be closer to and more engaged in the university community," says Tim Toohey, managing director of Corvias. "The completion of these buildings helps to solve the housing shortage and will benefit students for decades to come."