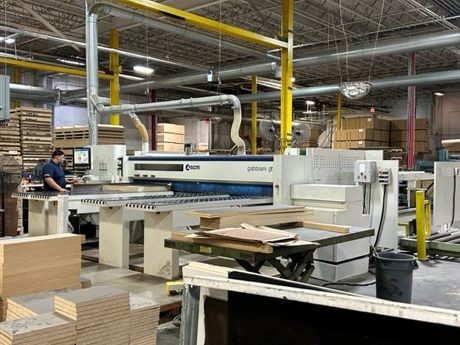 Selecting a vendor for off-campus student housing furniture means considering many moving parts to keep a complicated process moving forward. To talk timing, process and practical considerations for furniture, Student Housing Business sat down with Kris Benson, director of sales at Dickson Furniture Manufacturers, a U.S. company that specializes in designing, engineering, building and coordinating the delivery and installation of student housing goods.
When considering purchasing furniture for a student housing property, Benson recommends the following checklist of important questions to streamline the process:
What is your timeline?
Who are you working with and what expertise can they bring to the table?
Can higher durability keep long-term costs down?
What do you need in terms of delivery?
How can you ensure you receive exactly what you expect?
Timing & Timeline — When to Start Consulting with a Vendor
Building in ample time for planning is an essential step in any business partnership. Benson explains that all timelines require some flexibility within them, but that the 16-week timeline from consulting to delivery is the gold standard for American-manufactured student housing furniture, especially if custom products are needed.
Two to four weeks for consulting, 10 weeks for manufacturing and two weeks for shipping, delivery and installation can sound like an exceptionally long time for furniture buyers, but Benson says that this timetable can be compressed. In fact, the itinerary can often be shortened quite a bit if customers are dealing with U.S.-based manufacturers who are less likely to be snarled by supply line/logistics concerns.
However, a leisurely 16-week pace offers benefits to the buyer and a model for the concerns, check-ins and custom products that will ensure student spaces are furnished and polished-looking by the time mid-August rolls around. It will also leave breathing room in the event of unexpected delays, including the supply line and trucking concerns that periodically face the industry.
While delays are inevitable for some suppliers — especially those coordinating with separate, often-overseas manufacturers — timeline interruptions are difficult to plan for and can lead to unacceptable outcomes, including housing students in hotels.
"U.S. vendors have the advantage when it comes to management over itineraries and deliveries," Benson explains. "Because Dickson owns their own manufacturing plant, they control all the machinery, the production schedule, how items are laid out and what raw materials they bring in."
Know the Process — Expertise Informs Logistics
After years of industry-wide reliance on importing furniture from overseas, U.S. manufacturing is making a comeback in the student housing arena. Global instability, inflated shipping costs and an unreliable supply chain have forced furniture buyers to reconsider their priorities. Local manufacturing can offer a buyer more control, accurate timelines and the ability to make impromptu changes if designs need to evolve.
"Dickson has a deep level of hands-on experience in the student housing market and in the other markets we serve — hospitality, the corporate housing and rental industry, plus the products we make for other manufacturers," Benson explains. This expertise means that the manufacturer can usually find clients a solution through their know-how across a variety of spaces and setups, especially as trends from other markets (especially hospitality) permeate into the world of student housing furniture.
Furnishing Success
The intersection of style, looks and price is where most off-campus buyers are making their decisions. However, the process of design and development can be fraught. Benson describes how some third-party firms quickly develop impressive designs that simply cost too much; don't work with the form, fit and function of the units; or that, through a remote manufacturing process, result in a final look that isn't exactly what the customer anticipated.
Practical realities should determine what questions buyers and developers are asking of their vendors right from the start. "Durability does impact cost and lifespan of furniture," Benson explains. "The abrasion resistance of an upholstered piece; the environmental side of the materials used — the sustainability component, including thoughtful regulations such as CARB 2 compliance, GREENGUARD certified suppliers, sustainable wood sources — these are important questions when working with a vendor. You can expect problems with quality if these subtle features are overlooked, which can lead to buying a piece multiple times. Why not get it right the first time?"
"At Dickson, not only are we knowledgeable about the products within our industries, but we're very aware of how an item is constructed, the kinds of areas where each piece works best, the edges and components and surfaces, the material yields that lead to the best outcomes and how to plan best for backup stock — because we see this furniture every day in our factory."
This article was written in conjunction with Dickson Furniture Manufacturers, a content partner of Student Housing Business. 
To learn more about Dickson Furniture Manufacturers, click here.
For more information on becoming a Student Housing Business content partner, contact Rich Kelley, publisher, or Tim Tolton, media advisor.