Properly scheduling job site deliveries and services can prevent days of delay and added costs that arise when pivotal events in a project overlap. Even experienced student housing developers can forget this, not to mention new entrants to the industry, who may have only vague notions of the time and resources required to complete the many construction and vendor tasks that lead up to student move-ins.
Just ask Amanda Bowen, director of business relations at Dickson Furniture Manufacturers. This summer, her team arrived on the appointed day to install furnishings for an entire complex of new student apartments, only to find their access barred by concrete mixers preparing to pour the project's driveways.
"We had to use a boom lift to move our palletized furniture over the concrete being poured to get it into the property," she recalls. "You are losing time when you must work around other tradespeople like that at a job site. In a perfect world, we would show up and furniture would be the only trade being delivered and installed that week, but, obviously, that's rarely an option."
In other instances, construction crews are struggling to deal with ongoing labor shortages, and they are taking longer to complete their work in time for planned furniture installations. Unforeseen circumstances, such as elevators and workspaces being unavailable for several days, can have major impacts on planned timelines.
"We had 16 people ready with wardrobes, desks, beds and dressers, but we were stuck not being able to do anything while the elevator was being worked on — and then we had to wait on a safety inspection," she said. "When clients put us in direct communication with the general contractor, we are able to avoid these errors and generate a much more efficient and effective installation process."
Such avoidable delays have grown more common with the recent influx of boutique developers and one-off projects, drawn to student housing by strong renter and investor demand at a time when other commercial property types are experiencing elevated volatility. Developers can avoid some of these challenges by working with an experienced general contractor, Bowen says, but even a knowledgeable contractor is unlikely to accommodate vendors unless prompted by the developer.
"Even with experienced clients, we are often working with the developer and project manager without a direct line of communication with the general contractor on site," Bowen says. "And usually, we are the last people the general contractor on site thinks about, which leads to a lot of the problems we see."
A Better Way
Student housing developers that involve a furniture provider from the outset enjoy maximum flexibility and value from the process, Bowen observes. That enables the vendor to suggest design possibilities and evaluate options fitting the property's style and budget, with time to craft mockups that help the client visualize the pieces in their project.
For example, one Dickson Furniture client collaborated on the design and manufacture of pieces for a Denver property throughout the project's two-year development, reviewing four sets of mockups before finalizing the order.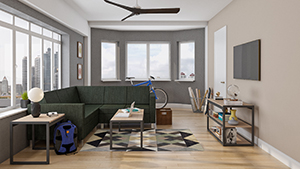 During planning, a furniture provider at the table can show how the dimensions of residential units will affect furniture options and may be able to suggest design tweaks to improve flow and function. A designer can even add a client's furniture selections to digital building plans to show them at scale.
"If the client will share their CAD files, we can show what's going to fit, realistically, and go from there," Bowen explains. "If you are still in design, for example, we can tweak the bedrooms to accommodate a different piece of furniture that the developer really wants to have in there. Or we may see that you need to move your closet just a tad bit to the left to accommodate a headboard you are dying to have in that unit."
Forgoing this early involvement risks losing some furniture options in the final unit configuration. Bowen recalls a client who waited until a project broke ground before ordering custom furniture. The architect had centered an air conditioning unit in each unit's bedroom wall, which forced beds or headboards to either side.
"There wasn't much space," she says. "We had to go with twin beds when most student housing projects include full-size beds."
When it comes to minimizing delays, a furniture provider can help shape the project timeline with sufficient time to manufacture, deliver and install custom furnishings with minimal disruption. Dickson Furniture prefers to begin installations about 60 days before student move-in, typically allowing a week to 10 days to complete the work. During scheduling, the team should communicate with the general contractor about any special equipment or personnel that will be required, such as a forklift and operator or trash bins. Or a working elevator. Or driveways.
Open Channels
Making the most of a custom furniture order really boils down to engaging with a provider early in the process and maintaining regular communications throughout the product's design, manufacture, delivery and installation. Being receptive to suggested delivery dates and vendor sequencing can help developers avoid headaches resulting from job site congestion.
"The earlier you bring a furniture design team into the mix, the more they can work within your budget and still give you a customized package," Bowen concludes. "If you bring the furniture component into the planning process further along, you may have to go with standard designs."
— By Matt Hudgins. This article was written in conjunction with Dickson Furniture Manufacturers, a content partner of Student Housing Business.
To learn more about Dickson Furniture Manufacturers, click here.
For more information on becoming a Student Housing Business content partner, contact Rich Kelley, publisher, or Tim Tolton, media advisor.