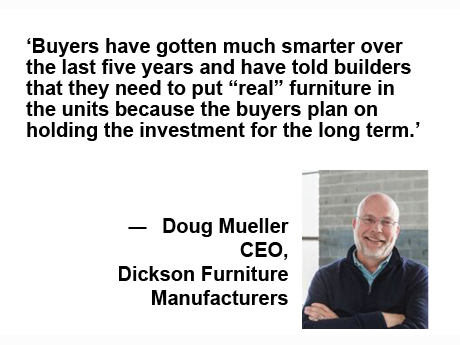 Just as modern student housing suites are rendering the utilitarian college dorm rooms of past generations obsolete, more stylish furniture options in today's units have replaced yesterday's purely functional and no-frills standard. Considering the habits of the average college renter are evolving much more slowly, however, student housing owners continue to demand durability.
Ultimately, this characteristic directly affects the value of properties, suggests Doug Mueller, CEO of Dickson Furniture Manufacturers, a Houston-based company that primarily caters to the student housing and hotel industries. That's especially true when considering furniture typically represents about 1 percent of student housing development costs, he says.
Consequently, owners want to avoid replacing furniture sooner than planned. Five to 10 years ago, for example, some merchant builders filled their buildings with cheaper, less dependable furniture that quickly showed wear.
"Buyers have gotten much smarter over the last five years and have told builders that they need to put 'real' furniture in the units because the buyers plan on holding the investment for the long term," Mueller says. "In some cases, they have required the builders to switch out the furniture with more durable product to make a sale happen. Either that, or accept a big discount on the property's price."
Focus on Strength
Dickson Furniture was founded more than 45 years ago, and Mueller and his business partners purchased the firm in 2012. As a U.S.-based manufacturer, the company controls the production process from design to delivery, which it says results in an ability to work on tighter deadlines and faster order fulfillment.
To create more durable modern furniture, manufacturers like Dickson Furniture are creating pieces with metal frames while avoiding bulkiness, Mueller points out. Additionally, the company prefers the high-pressure laminate (HPL) production process rather than the thermal fuse laminate (TFL) process when making headboards, desks, dressers, tables and other furniture items. HPL generally creates laminates with a protective overlay that can withstand dents or dings far better than TFL, he explains.
Over the last several years, HPL has become the minimum standard within the student housing industry because most property owners want furniture to last 10 to 15 years. What's more, HPL surfaces can be cleaned repeatedly without breaking down. As a result, student housing projects have witnessed an increase in overall furniture durability over the last decade.
"HPL products look the same as TFL, but 10 years from now, the HPL pieces will look practically brand new while the TFL pieces will look worn," Mueller says. "HPL pieces run out of style before they run out of durability."
Increasingly, developers also want customized colors and textures on desks, tables and dressers to make their properties stand out from the competition, adds Brad Hufford, Dickson Furniture's COO. "Putting just a touch of texture into the rooms is something that has become more prevalent," he continues. "Many of the textures create a real wood feel and richer look versus the glossy touch and appearance of standard laminate."
Promoting Competitiveness
Memory foam mattresses are relatively new additions in student housing rooms, and Mueller notes that Dickson Furniture first introduced the product to the sector about eight years ago. Because memory foam is largely imported from Asia, its adoption took a temporary hiatus when container shipping costs skyrocketed. But with container rates dropping over the last several months, memory foam is once again in high demand.
"Memory foam has really been a game changer for developers," he reports. "If students have a choice between an innerspring mattress or memory foam, they're going to choose memory foam every time."
In addition to a small amount of metal components, such as drawer guide hardware, memory foam is the primary product that Dickson Furniture imports. While the process to make memory foam is relatively simple — raw goods and chemicals make up the lion's share of costs — U.S. foam producers are not as competitive as their Asian counterparts, Mueller says. The surge of chemical prices amid shortages during the pandemic and the deep freeze (and subsequent disruption) in Texas two years ago didn't help matters, and to date, student housing developers aren't willing to pay a premium for domestic memory foam, he adds.
More broadly, raw material costs for other pieces of furniture are roughly the same in the U.S. as they are in Asia, he states, but labor costs are higher here. Still, the firm prides itself on an efficient production process that helps it match or beat overseas competitors.
"When you're buying from an American manufacturer, many people think you've got to pay 50 percent more or double what you would for Asian imports," Mueller declares. "But in many cases, American-made goods can cost less and, quite often, they cost much less per lifetime use."
More recently, investors have been demanding more environmentally sustainable products, he adds. But while Asian manufacturers can often beat American companies on price, they may not be as sustainable as advertised due to a lack of transparency about their environmental practices. Manufacturers may herald their use of recycled materials while quietly dumping toxic waste into a river, for example, and Asia's continuing expansion of coal plants and the massive carbon footprint of container ships potentially neutralize or even outweigh eco-friendly production processes.
"There are a lot of 'less-than-green' activities happening overseas, and you've also got a lot of geopolitical risk," Mueller says. "If you're able to buy domestically, it's a win-win considering the cost of furniture and the fact that if the product is not here by the time school starts, you're going to have to put students up in hotels."
— By Joe Gose. This article was written in conjunction with Dickson Furniture Manufacturers, a content partner of Student Housing Business. 
To learn more about Dickson Furniture Manufacturers, click here.
For more information on becoming a Student Housing Business content partner, contact Rich Kelley, publisher, or Tim Tolton, media advisor.