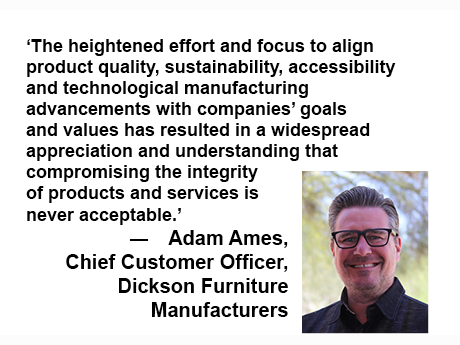 Student Housing Business spoke with chief customer officer, Adam Ames, and director of sales, Kris Benson, to learn how Dickson Furniture Manufacturers continues to innovate as the student housing industry evolves, as well as the significance of adhering to environmental, social and governance frameworks and Leadership in Energy and Environmental Design (LEED) certification requirements.
Dickson's competitive advantage begins with its oversight and quality control capabilities. With local resources and domestic production and distribution, Dickson provides unmatched customization as well as a commitment to customer service no matter the circumstances.
"Most furniture manufacturers have found sources outside of the United States to remain cost competitive when it comes to the student housing sector. Dickson has flourished as a U.S. domestic manufacturer. Our abilities were evident during the global supply chain constraints resulting from the pandemic," says Ames. "The domino effect of international supply chain shortages had widespread consequences for retailers who heavily relied on imports. Our ability to leverage a close-to-home domestic supply chain speaks to our commitment to ensuring quality products in a timely manner."
Leading the Way
LEED is a green building certification program used worldwide and has become extremely topical for owners and operators looking to bolster their project's recognition, value and social impacts.
The LEED rating system has seven areas of concentration: Sustainable Sites, Water Efficiency, Energy and Atmosphere, Materials and Resources, Indoor Environmental Quality, Innovation in Design Process and Regional Priority.
"The primary focus of the LEED side of the business has to do with the building itself, with the furniture serving as the last piece to complete the project. As a domestic manufacturer, we provide the opportunity for owners and operators to capitalize on and secure LEED credits focused on minimizing carbon footprint when selecting interior/exterior design applications," says Benson.
LEED certification takes into account many interior design and resource factors when administering their rankings. Some of the key factors that Dickson provides include product construction and materials, waste management, material reuse, recyclable content as well as the mitigated carbon footprint associated with decreased distances between the manufacturing site and the project location.
Oversight with ESG
In addition to increased attention surrounding LEED certifications, owners, operators and manufacturers have also been keen on improving the environmental, social and governance (ESG) frameworks associated with their projects.
"There have been multiple regulations that have been enacted that further highlight our proactive nature when it comes to navigating our supply chains and how we produce our products," added Benson. "We want to do our jobs better and faster, so we are constantly creating efficiencies and improvements to lessen our costs. Sourcing materials domestically reduces the distance materials must travel and increases our ability to meet demand quickly with minimal interruption."
According to Ames and Benson, for manufacturers in the industry, student housing has passed the tipping point where scalability and mass production were previously weighed down and affected by rising manufacturing and production costs, thus worsening the conditions for consumers.
"The heightened effort and focus to align product quality, sustainability, accessibility and technological manufacturing advancements with companies' goals and values has resulted in a widespread appreciation and understanding that compromising the integrity of products and services is never acceptable," says Ames.
Looking Ahead
 "We have seen a gradual increase in the length of ownership of the properties in owners' portfolios," mentions Benson. "This extended shelf life and interest in longevity speaks to the importance of the sustainability component of our products. The methods in which we construct our products, source our materials and demonstrate our delivery capabilities indicate the level of excellence we bring to bear on our products. In terms of quality, the attention to detail we continue to uphold will allow us to stay ahead of the curve and remain extremely competitive while letting companies hold to the values required for LEED and ESG into the future."
— By Sam Felton. This article was written in conjunction with Dickson Furniture Manufacturers, a content partner of Student Housing Business. 
To learn more about Dickson Furniture Manufacturers, click here.
For more information on becoming a Student Housing Business content partner, contact Rich Kelley, publisher, or Tim Tolton, media advisor.