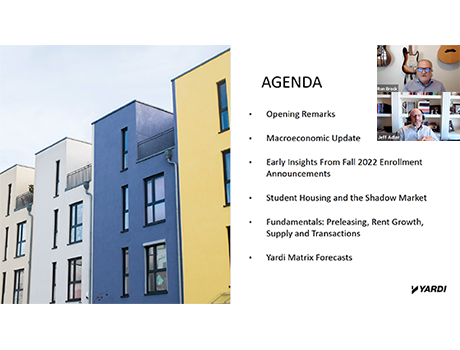 The Nov. 2 webinar "Student Housing Demand — 2022 Review & 2023 Outlook," hosted by Student Housing Business and sponsored by Yardi, covered the larger economic outlook, enrollment, the health of student housing and "shadow markets" (nearby apartments competing for residents), industry fundamentals (including preleasing, rent growth, supply and transactions) and Yardi Matrix forecasts.
Declining enrollment and revenue are causing consolidations within some higher education systems, benefitting the most competitive universities. Learn what universities have experienced the most growth in preleasing, annual rent increases, the latest numbers on student housing completions, development forecasts and trends for transaction volume this year. Where are there opportunities for growth, and what factors are investors using to determine where they deploy capital? What can preleasing tell us about these markets and what to expect next?
Watch the webinar here and learn more about student housing data and leasing numbers, plus information on enrollment. Learn all about the trends shaping the student housing sector this year and what is likely to shape them in the near future. Download the presentation slides here.
Panelists:
Ron Brock, Jr., Industry Principal, Yardi Matrix
Jeff Adler, Vice President, Yardi Matrix
---
Yardi Matrix offers the industry's most comprehensive market intelligence tool for investment professionals, equity investors, lenders and property managers who underwrite and manage investments in multifamily, student housing, industrial, office and self-storage property types. The company provides nationwide market and institutional research reports that leverage property-level details of multifamily properties. For more information, visit www.yardimatrix.com.
---
Listen to hear the latest student housing enrollment data for both public and private sectors, plus information on merger and acquisition activity and on/off-campus property considerations, as well as development opportunities using the Yardi Matrix 2023 Student Housing Forecast.
---
For more information on the student housing industry, subscribe to the weekly Student Housing Business newsletter or the bi-monthly magazine. To listen past to Student Housing webinars, click here.